EBU heavyweight champion Agit Kabayel (18-0, 13 KOs) successfully defended his title for the second time in stopping an over-matched 24-year-old Miljan Rovcanin (19-2, 13 KOs) in the 3rd round on Saturday night in front of 3300 boxing fans at the the Estrel Convention Center, Neukoelln, Berlin, Germany.
Kabayel, 25, knocked the exhausted Serbian Rovcanin down twice in the 3rd round. The referee Anssi Perajoki decided the 24-year-old Rovcanin had had enough after the second knockdown, so he halted the fight at that point. The official time of the stoppage was at 2:25 of round 3.
Rovcanin looked more tired than hurt, as Kabayel had put a lot of pressure on him the entire fight and forced him to battle at a faster pace than he was accustomed to.
Rovcanin was moving a lot in the first two rounds, throwing weak jabs and combinations that did nothing to slow down the pressure from Kabayel. There was a lot of holding and wrestling from Kabayel when he would get in close in the first two rounds. Kabayel was roughing Rovcanin up, appearing to lace him and mauling. There weren't too many clean shots landed in the first 2 rounds.
Near the end of the 2nd round, Rovcanin gassed out, and began to take punishment from Kabayel against the ropes. All the running that Rovcanin had done earlier in the round seemed to sap his strength, causing him to lose what little power he had on his shots. Once Rovcanin faded, Kabayel began to land at will at with his jabs, left hooks and clubbing right hands. Kabayel didn't show much power or hand speed either, but his shots were weakening Rovcanin because he was getting hit by so many of them.
Kabayel began to showboat in the later staged of the 2nd round by winding up with bolo punches. The showboating would have made Kabayel look better if he had power and speed on his bolo shots. They looked weak and slow, and that took away from his attempts at showing off. To look impressive throwing a bolo punch, you need punching power and speed like Deontay Wilder. Kabayel is light years away from Wilder in the power and speed department. Kabayel is more of a blue-collar type of heavyweight, so it looks odd when he showboats.
At the end of the 2nd, it was clear that Rovcanin wasn't going to be able to make it through the next round. He was completely exhausted and not in good enough shape to make it through another round. The way Rovcanin looked, Kabayel could have stopped him with jabs in the 3rd if he had wanted to. Rovcanin was defenseless in the 3rd and incapable of blocking any of the shots that Kabayel was throwing at him.
With the win, it'll be interesting to see which direction Kabayel goes in.
Former British and Commonwealth heavyweight champion David Price said recently that he wants to challenge for the EBU heavyweight title. That might be a good direction for Kabayel to go in if Price's face heals up soon from the beating he took in his recent 5th round knockout loss to former WBA heavyweight champion Alexander Povetkin last month on March 31 in Cardiff, Wales.
Price came out of the fight with 42 stitches and a fractured nose after being knocked out hard in the 5th by Povetkin. Considering the way Price was knocked out, he's not the idea opponent for Kabayel to defend against next, but you can say for sure that he would be a huge step up from Rovcanin, who had recently been beaten by Alexander Dimitrenko by a 10th round disqualification on December 22 last year.
Rovcanin rebounded from that loss to beat journeyman Drazan Jananin (20-20) in his last fight on March 11 in stopping him in the 2nd round, but that was such a lowly opponent that he hadn't earned properly earned a fight for the EBU heavyweight title against Kabayel. A rematch between Kabayel and Dereck Chisora would be a good fight as well. However, I doubt that Chisora will want to take a chance at mixing it up with Kabayel a second time after losing to him by a 12 round majority decision last November.
Rumours from ringside also suggested that Kabayel might fight Marco Huck, who was in attendance, in the near future.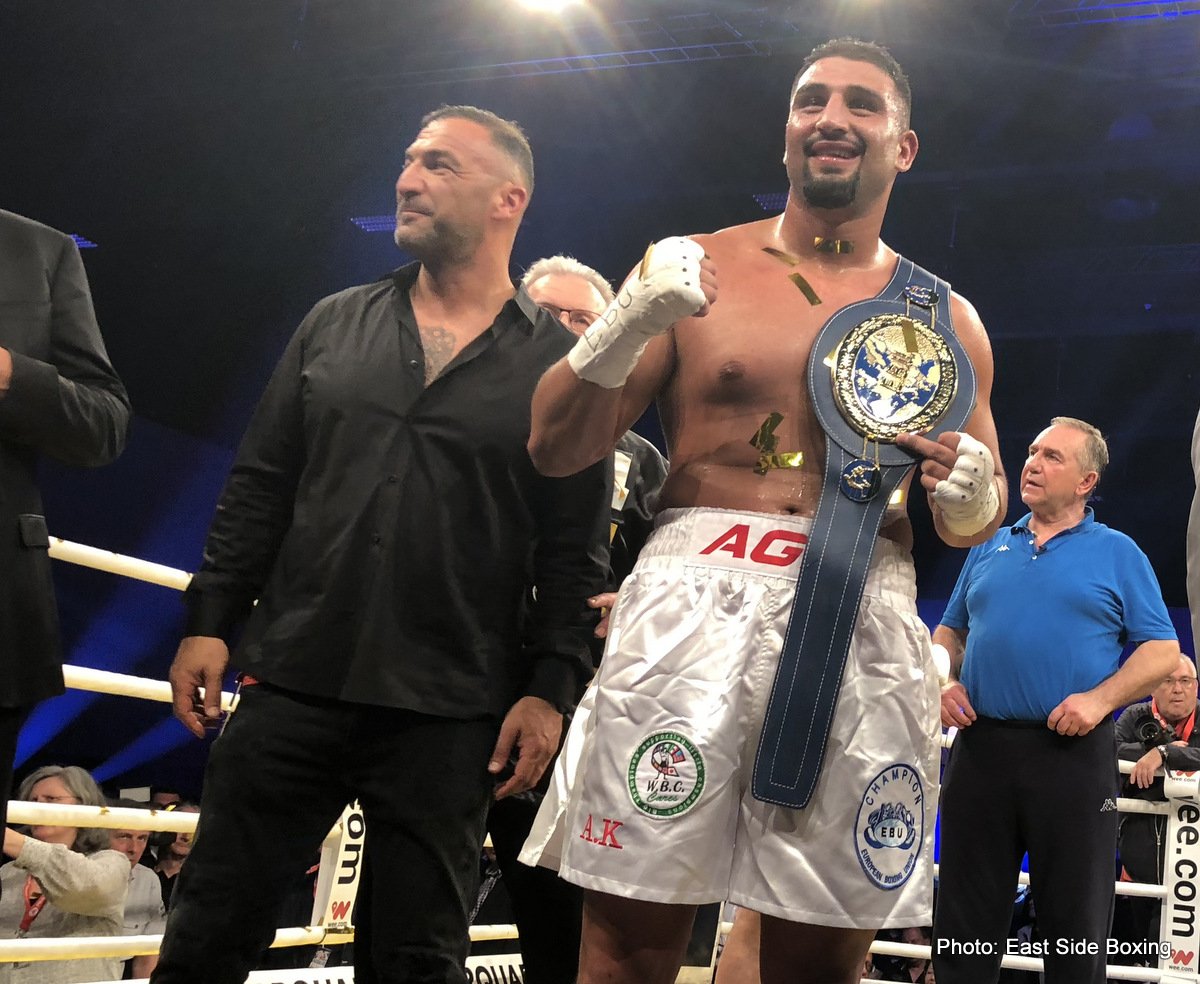 In other results on the card, #5 WBO heavyweight contender Tom Schwarz (21-0, 13 KOs) defeated previously unbeaten Senad Gashi (16-1, 16 KOs) by a 6th round disqualification. Gashi had 2 points deducted in the fight for intentionally head-butting Schwarz in rounds 2 and 4.
The fight was halted in the 6th round by the referee due to an intentional head-butt by the frustrated looking 28-year-old Gashi. Moments before Gashi head-butted Schwartz, the German fighter appeared to have hit him in the back of the head with a punch while the two were in the corner. The referee didn't see that punch and let the action continue. Gashi then head-butted Schwarz in what appeared to be a retaliatory move for the rabbit punch he'd landed. A brawl erupted in the ring after the fight was stopped with Gashi, Schwarz and their teams going at it.
Earlier in the fight, Schwarz had gone down after being head-butted in round 2 by Gashi. It wasn't a hard head-butt, but Schwarz went down just the same, as if he were knocked unconscious. The big 6'5" German Schwarz stayed on the canvas for a long time before he got back up. It's unclear if Schwarz was really hurt or just milking the incident so he could get a disqualification win. When Schwarz finally did get back to his feet, the referee took a point away from Gashi. Up until that moment, it looked like Gashi was winning the round with the way he was working Schwarz over in the corner.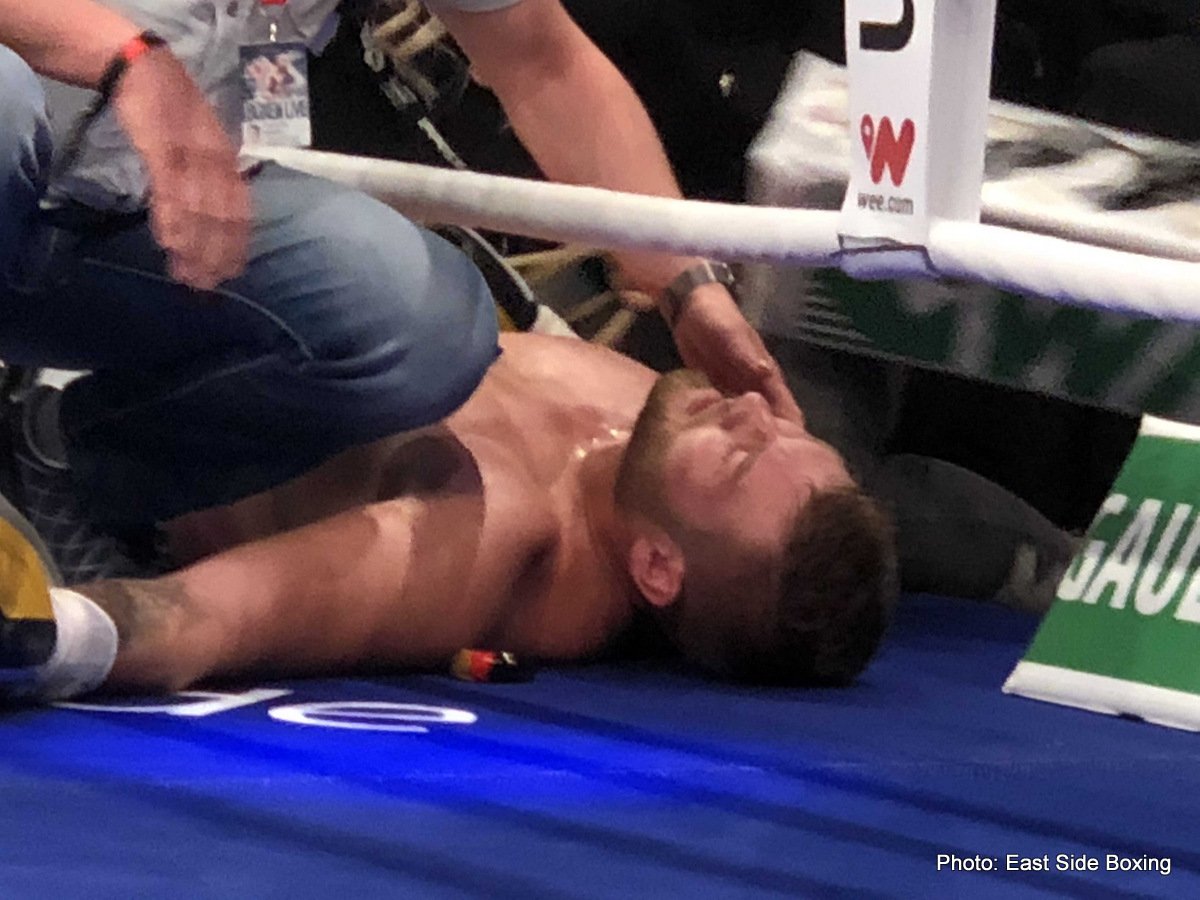 Schwarz was not that impressive in the fight, as he missed frequently with his right-hand shots, and he did a lot of holding. Schwarz was constantly grabbing Gashi in a clinch and leaning on him to force him down. This was almost a ritual that Schwarz would do in each round. When the much shorter 6-foot Gashi would come forward looking to throw body shots, Schwarz would grab him in a bear hug, and then lean forward to force him in a bent over position. The referee did nothing about that move by Schwarz the entire fight. Gashi was frequently looking at the referee to see if he would start policing the actions by Schwarz, but he wasn't going to do it.
In round 5, Gashi suddenly stopped fighting and looked over at Schwarz's corner in response to something they were shouting at him. Schwarz then took advantage of Gashi being distracted and nailed him two times in the head. Instead of staying focused, Gashi listened to everything that Schwarz trainer Dirk Dzemski yelled at him and let himself get distracted. It was strange, very strange, to see Gashi distracted enough to stop fighting for a brief second.
It was not an impressive performance by Schwarz. Despite winning the fight, he showed major flaws with his inability to land his right-hand shots, and his habit of covering up when he was against the ropes. He reminded me of a shorter, younger, less skilled version of Alexander Dimitrenko. Schwarz looked nothing short of terrible. The way that he dropped to the canvas after being head-butted in the 2nd round looked bad. It appeared to me like Schwarz was trying to milk the incident to get a early win via disqualification. Good fighters don't need to do things like that to win fights. When Schwarz was head-butted by Gashi the 4th, it looked like he was going to go down for a second time. Schwarz lowered his head as if he was going to fall again, but it looked like he thought better of it and stayed on his feet.
All in all, I was more impressed with Gashi in this fight than I was with Schwarz, who looked like he was trying to game the system the entire fight by his theatrics after each time he was head-butted.
Click here to watch the entire fight