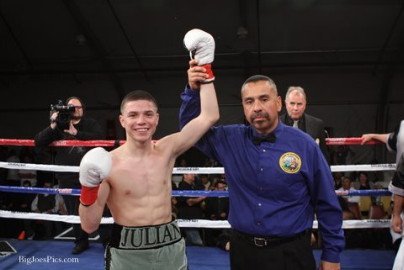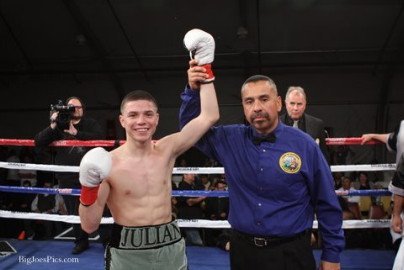 By Marc Livitz: On Saturday, March 16th, at the Grand Oasis Resort in Cancun, Mexico, undefeated Featherweight prospect Julian Ramirez will meet a very recognizable name in the ring. However, the southern California fighter will give all he has to ensure that this particular Ruben Olivares does not shine in the same way as the legendary "El Puas" once did.
A Los Angeles area resident all his life, Ramirez (7-0, 5 KOs) has had an active career since turning pro in early 2012. Currently just a few weeks shy of his twentieth birthday, Julian always knew that the sweet science held the calling towards where he would ultimately head.
"My grandfather took me to the gym when I was young and I can remember sparring in a three-round fight for the first time. I got busted up pretty bad, but I knew I'd found the right sport for me. I had played other sports like baseball and soccer, but I really just loved being in the ring", said Ramirez.
He made choices while he was still in high school which enabled him to eventually boast an extensive amateur career of nearly eighty fights with fewer than ten losses and multiple city championships. Ramirez was able to graduate a year early and then set his sights on following a dream. He signed with Golden Boy Promotions last year and so far has won five of his first seven professional contests by knockout with four knockouts occurring in the first round alone. Although he's been fighting for just one year as a professional, he feels the ring to be a learning ground.
Ramirez briefly spoke of what he has acquired in boxing so far.
"I have to work on my timing, especially because I'm a lefty. Sometimes a southpaw and an orthodox fighter will clash heads, so I know that I need to develop some more ring skills in the future. I also know that this is a job and I take it seriously. So many fighters become so full of themselves and forget that it's a job. They're more worried about what they can buy now."
Every major fight town has produced its share of pugilistic legends. New York, Philadelphia and Boston are great examples. On the other side of the United States, Los Angeles has also carried a steady reputation as a hotbed for up and coming fighters.
Julian commented, "It's a great scene. At the gyms here, everyone is training and sparring hard. They're trying to knock each others' heads off. I've seen other places that just aren't like that. So, I spend most of my training days at the GTO gym and my uncle is one of my trainers."
Southern California is home to the legendary Wild Card Gym. Its now hallowed halls are most famous for names such as Pacquiao, Khan, Chavez Jr., and of course, Roach.
Still, the unbeaten Julian Ramirez tends to stay to his roots at the GTO.
"I don't really go to Wild Card (gym) unless I need to do some serious sparring. That place is so popular now, and there are so many people who aren't really there to train. They hang out, don't use the bags and just do a lot of talking."
As previously mentioned, Julian Ramirez will face Ruben Olivares next weekend, yet he readily admits that he doesn't know much of his next opponent.
"I went looking for footage on YouTube, but all I found was old clips of the original Olivares," Julian admitted.
In the eyes of the casual sports observer, professional boxing is and is not what it used to be. In his brief professional career, Ramirez has been a witness to and been in the company of a great number of fighters, yet even at 19, he possesses a love for the old school ways of the sport.
"There's really no single fighter that 'wows' me these days. I prefer the boxers of earlier years. Those are the guys who I look to for inspiration. Chavez, Salvador Sanchez and Mike Tyson. Classic fighters like Alexis Arguello, too. They just came to fight and didn't have to dress like they were there to do anything else."
Should Julian Ramirez truly desire to become an ambassador for the sport, then he already has a head start on the competition. As long as he is able to remember that boxing is a profession and that he can always dress for success without allowing any room for confusion of his ultimate goal.