Eddie Hearn has confirmed that former IBF featherweight champion Josh Warrington will be facing Mauricio Lara at the end of the summer in front of a crowd.
Warrington (30-1, 7 KOs) has his mind made up that he wants to face Lara (22-2, 15 KOs) and try and undo what happened to him last Saturday night when the young unknown 22-year-old Mexican slugger came out of nowhere and scorched him by a 9th round knockout at the Wembley Arena in London, UK.
Hearn has given the 30-year-old Warrington his blessing to go through with the second fight with Lara. It's a risky fight for Warrington, though, because if he loses this one, there may be no coming back.
This literally could be the end of the line for Warrington if he loses because Lara will move on and likely get beaten straightaway when he faces one of the talented champions at 126.
Hearn says he signed Lara to a two-fight contract with Matchroom, which is a smart move. If Warrington gets knocked out again, at least Hearn will have his replacement in his stable.
Lara approved by the Warrington team
"I don't ever make the match. I put people forward to the team, and ultimately the team will approve the opponent," said Eddie Hearn to Secondsout in denying that he's the one that picked, Mauricio Lara for Warrington to fight.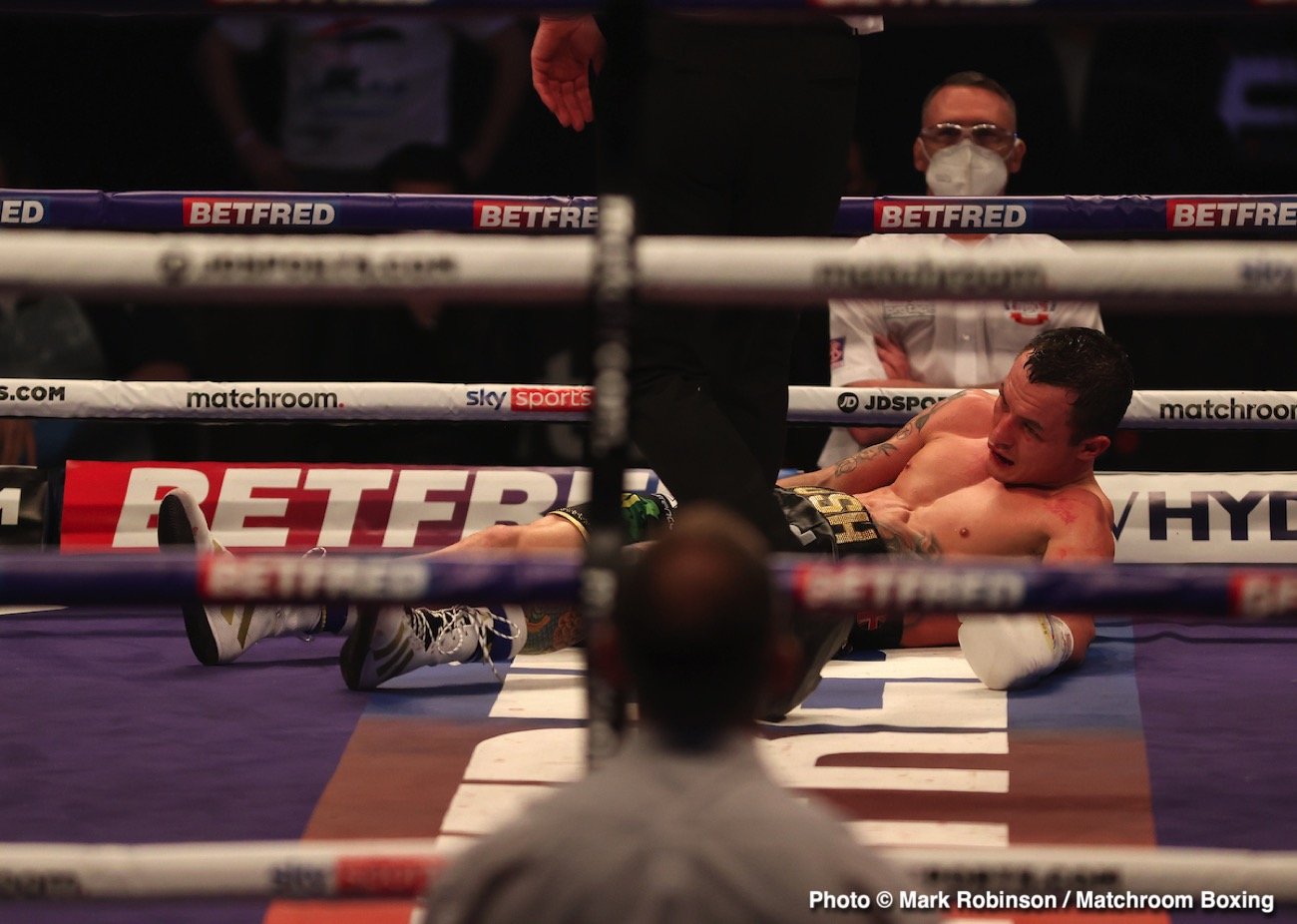 "I'm not shedding the blame, but we all felt this was a good fight. This was a guy that was never proven at the world level and doesn't have a good reputation out of Mexico as many good fighters do coming through.
"I sent him to Steve Wood; I sent him to Josh Warrington and his dad, the head trainer. Everyone looked at him, 'Good fight.'
"We knew it wasn't going to be a stroll in the park. He didn't want a stroll in the park. In fact, we turned down the Spaniard, Adoni Gago.
"I think that's his name, who Selby boxed because we all felt he wasn't good enough. Well, Sunday morning, we all wished we had gone with Gago.
"Do you know what's funny? This is so similar to the Andy Ruiz fight with AJ. I actually spoke to Josh Warrington this morning.
I can't tell you the similarities when you look back in the feeling in the changing room or fight week or the intensity or so many different things.
"When Lara won, of course, you do question the decision to choose that opponent. But then you speak to people in Mexico, and it's like, 'We can't believe.'
"But this was a bigger upset than Andy Ruiz and AJ. Andy Ruiz is a world-class fighter. Lara isn't proven to be world-class. He's done that now. But what he could do is, he was heavy-handed," said Hearn.
Eddie isn't taking sole responsibility for the selection of Lara as Warrington's opponent. According to Hearn, it was a team decision in Lara being approved.
They obviously weren't expecting him to fight at this level, as he'd never beaten anyone of note during his career and hadn't looked exceptionally good.
But what Hearn and Warrington's team failed to realize is that Lara has the punching power and size that was wrong for him.
Hearn didn't want a mismatch
"I see some people criticize the match-maker," said Hearn. "'Oh, they don't know how to steer the fighters.' Hold on; you want me to steer a fighter away from danger?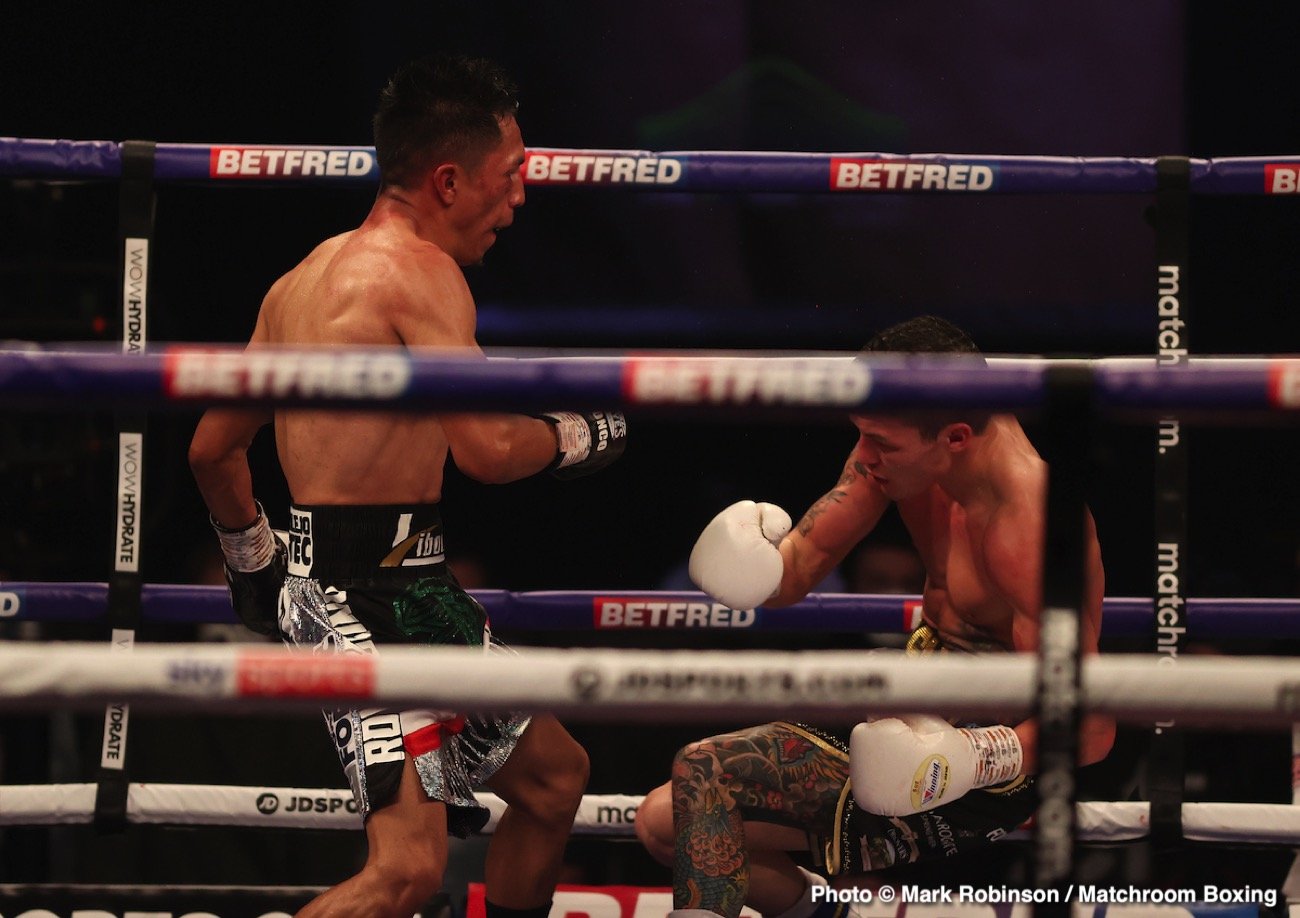 "I knew it wasn't going to be a mismatch. Listen, I didn't think he'd win, but I knew the kid would come with energy, and he would try, and he could fight.
"But isn't that what you want? I don't get this thing about, 'Oh, they don't know how to match over there.' What? Because one of our guys lost?
"One of our guys lost because he wasn't mentally focused for the fight. He hadn't boxed for 16 months.
"I think the occasion and the atmosphere compared to his usual occasion, and he was reckless, and he paid the price. That's why he lost.
"As I said to Josh Warrington, we had the same thing with AJ and Ruiz. 'Oh.' And actually funny enough, Don King called me before that fight and said, 'Fight Trevor Bryan, he's the perfect guy. He's from New York; I'll be there. Blah, blah, blah.'
"I said, 'Don, but AJ will knock him out in a round.' 'Oh, but isn't that what you want?' 'No, we want a good fight. We have a product here.
"We've taken Anthony Joshua to Madison Square Garden and sold out the arena, and you want me to pick an easy fight that goes one round. No.'
"Josh Warrington did the same thing. Our broadcasters are paying a lot of money. So what you're saying is. 'Oh, no. Why did you choose puncher?'
"What do you want, a s*** fight against someone that is no good that is no danger? We have a product to protect; we have a brand. We have to make good fights," said Hearn.
If you look at Warrington's fighting style, you could tell that he would have problems with Lara because he fights like a slugger.
Warrington is always brawling with his opponents, and the only reason he doesn't have a handful of losses already is he'd never fought anyone with huge power until last Saturday.
Warrington focused on the rematch
"While he was a 10 or 12 to 1 underdog, we knew he would come to win," said Hearn.
"As I said to Josh Warrington today, like Andy Ruiz, I had the same feeling.
"Should we have chosen him? 'Was he a bad style?' And then you do a rematch, and AJ wins every round, and I said that to Josh Warrington today.
"The only thing that Josh Warrington is thinking right now is the rematch.
"It's super early days; it was a brutal fight. Some people say he didn't have his sense, so what if it's brave?' No, that was one of the bravest things I've seen in my life. It was horrible to watch because in that atmosphere with no noise, it's harrowing, right?" said Hearn.
Anthony Joshua favors Warrington looking to avenge his loss to Lara, which isn't all that unexpected.
Joshua had his own Lara-type of a fight with him getting blasted out by Andy Ruiz Jr in their first fight in June 2019.
In Joshua's case, he was able to avenge his loss by beating Ruiz Jr by a lopsided 12 round unanimous decision in December 2019 in Sudi Arabia.
Joshua at least lost to a contender with a solid background in Ruiz. Lara had done nothing with his career before his win over Warrington, and he wasn't viewed as a guy that had the potential for that type of victory.
You know what you gotta do.

I got your back champ @J_Warrington 💥 pic.twitter.com/xsh7Wqfz9u

— Anthony Joshua (@anthonyjoshua) February 17, 2021