Top Rank is reportedly moving the Josh Taylor vs. Jose Ramirez light welterweight unification fight off the May 8th date so that it doesn't conflict with Canelo Alvarez's 168-lb unification fight against Billy Joe Saunders on the same date. Mike Coppinger reporting the Taylor-Ramirez fight being moved from the May 8th date.
If you ask this writer which of these two fights he'd rather watch, it would Taylor vs. Ramirez, hands down. That's a match that is expected to be highly competitive all the way through between these two warriors at 140.
In contrast, Canelo vs. Saunders is likely to be a massacre with the former Golden Boy Promotions star beating the hapless Billy Joe like a drum all night.
Saunders, 31, has a history of being a runner, so it's reasonable to assume he'll be making it hard for Canelo to get him all night on May 8th. While some boxing fans like to see, runners do their thing in the ring, but most fans hate watching those types of fighters.
It's boring but what can you do? Saunders has no power, and he won't last long against Canelo if he tries to fight him traditionally. If Saunders stands and fights, he likely won't last more than a couple of rounds at best against Alvarez.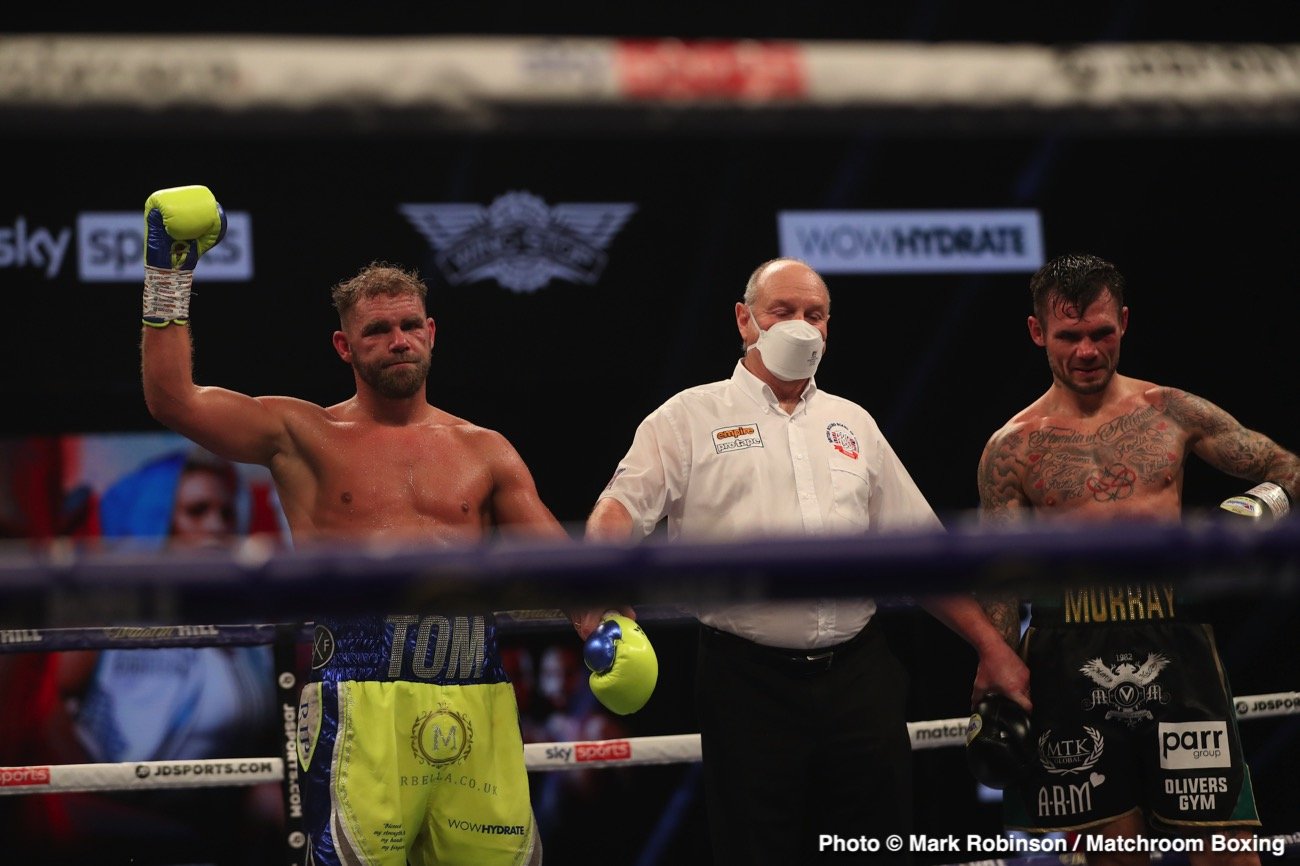 Yeah, it would make for great television if Saunders were willing to go out on his shield like that, but it's not within his character to fight that way. He's not a fighter, and he's a spoiler.
Taylor vs. Ramirez battling for the undisputed championship
The ESPN televised fight between IBF/WBA light welterweight champion Taylor (17-0, 13 KOs) and WBA/WBO champion Ramirez (26-0, 17 KOs) is for the undisputed 140-pound championship, could be moved to May 1st. Top Rank and ESPN still haven't given the word for when and where this match will occur.
Top Rank's move will allow boxing fans to watch both fights without needing to choose May 8th. The fights can be promoted for dates that don't put them in competition, which is a wise move by Top Rank.
The American promotional giant Top Rank wants to build stars out of Ramirez and Taylor. That'll be hard to do if they're competing with an established superstar like Canelo Alvarez on May 8th.
There's no question that the Taylor vs. Ramirez fight is the bigger one regarding what's on the line for the fight.
There will be all four 140lb belts up for grabs when the unbeaten Taylor and Ramirez go at it in this match. It's expected to be more competitive than WBA/WBC super middleweight champion Saul Alvarez's unification with WBO belt-holder Saunders (30-0, 14 KOs), a fight that will be shown on DAZN.
There's not expected to be a great deal of interest in Canelo's fight against Saunders by the U.S fans. This is more of a fight that the American boxing fans will put up with like they did when Canelo chose to fight Rocky Fielding in 2018 rather than meet with Gennadiy Golovkin for a trilogy match.
Canelo wants to unify 168lb division
U.S fans want to see Canelo challenge himself by fighting GGG for the third time, and they also see the Mexican star take on David Benavidez, Jermall Charlo, and Demetrius Andrade.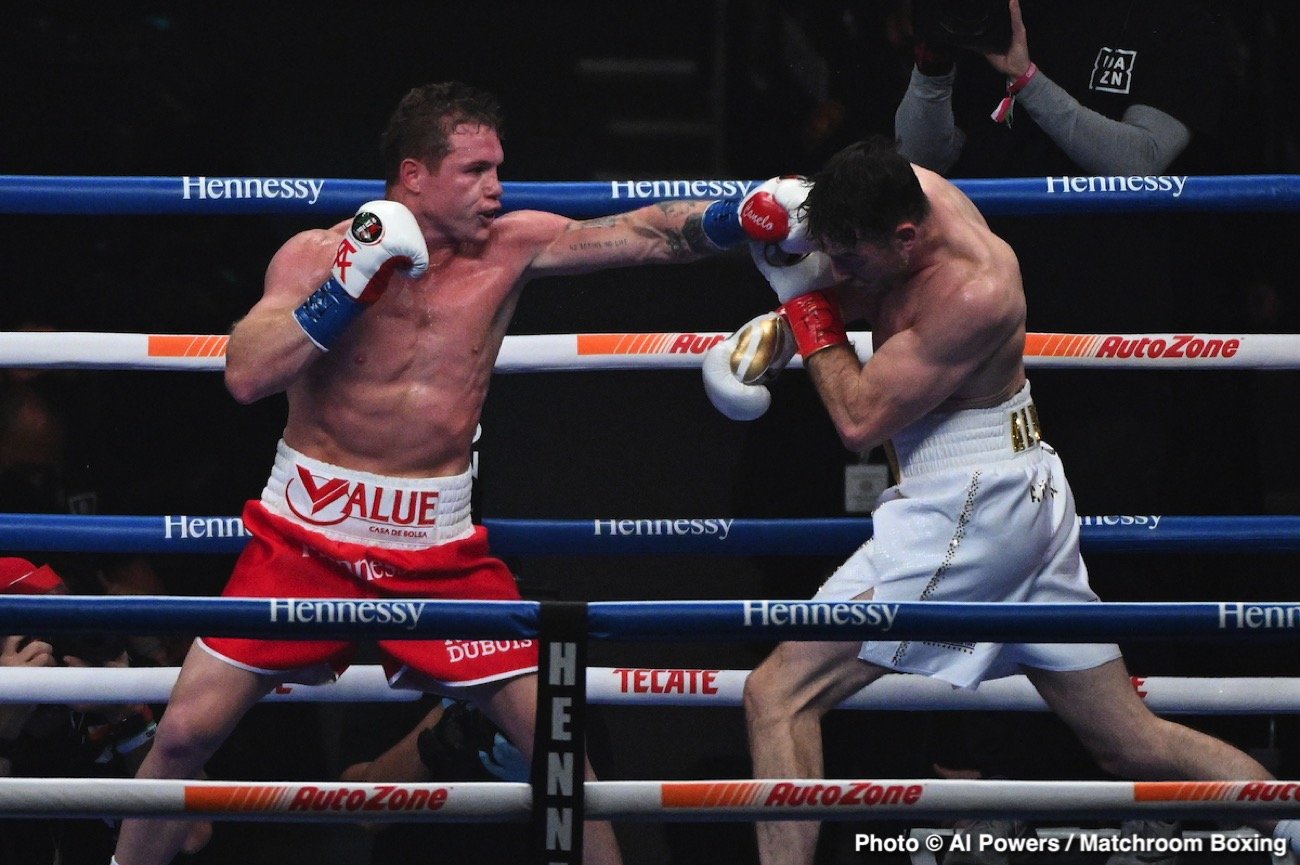 Saunders is someone that U.S fans don't talk about ever when discussing fighters they want to see Canelo face.
Unfortunately, Saunders is one of the belt-holders at 168, and Canelo has chosen this division to become the undisputed champion.
That means U.S fans will need to put up with what will likely be another mismatch similar to Canelo's last fight against WBA super middleweight belt-holder Callum Smith last December.
That fight was godawful from start to finish. It's hard to say what Smith's game plan was for that fight because it just looked like he was only interested in covering up on the ropes like a sparring partner.
The man fought like he had no common sense in his head, and the result was Canelo giving him a royal thrashing.
It's hard to imagine Saunders fighting in the same illogical manner, but you never know. He's looked awful since moving up to 168, so he may be just as easy for Canelo to beat as his fellow countryman Smith.
What happens if Canelo loses to Yildirim?
It's unclear if Canelo will keep the May 8th date if he loses to his WBC mandatory Avni Yildirim on February 27th.
Losing to the underdog Yildirim (21-2, 12 KOs) would naturally mean that Canelo won't be fighting Saunders on the May 8th date. The question is, would Canelo still keep the date and try and bring Yildirim back quickly for the rematch?
Canelo isn't expected to lose to Yildirim. In fact, he's a huge favorite to defeat the Turkish fighter, who is coming off a 2-year layoff and a defeat to Anthony Dirrell in 2019. But this is boxing, and anything can happen, especially when you looking at the size and power differences between the two.
Canelo, 5'8″, is small for the 168-pound division, and he's not yet fought a solid fighter since moving up the weight class in 2018.
Although Canelo has beaten two world champions from the UK in Rocky Fielding and Callum Smith, they fought poorly and looked like they didn't belong among the belt-holders.
The belief is that Yildirim is a flawed fighter that has no business fighting for a world title, given that he's coming off a loss to Dirrell.
Yildirim has been put in the World Boxing Council's mandatory spot despite his defeat, and Canelo wanted this fight. Canelo could have likely bypassed it easily if he'd wanted to, using his pull with the WBC, but he wanted the match.
Assuming Canelo gets past Yildirim, Saunders will be waiting for him on the Cinco de Mayo holiday date on May 8th. Saunders hasn't looked spectacular since moving up to 168 in 2019.
Saunders picked up the vacant WBO super middleweight title easily, defeating Shefat Isufi by an unimpressive 12 round unanimous decision in 2019. In Saunder's two title defenses for his WBO belt, he's defeated Martin Murray and Marcelo Esteban Coceres.
Those obviously weren't risky fights for Saunders, but they were in keeping with the type of opposition he's faced during his career.
Saunders has been a non-risk taker from day one since turning pro in 2009, which hurt his popularity. Also, Saunders has had issues staying healthy, and that's not helped his career either.