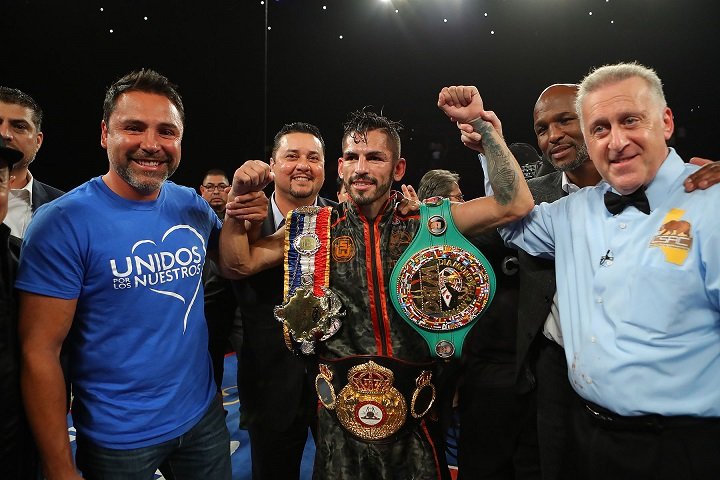 While there is a growing sense that many top fighters are, if not exactly running away from Vasyl Lomachenko, not too enthusiastic at the idea of climbing into the ring with the Ukrainian southpaw, this is not the case with Jorge Linares. The reigning WBA and Ring Magazine lightweight king, in training for his January 27 defence against Mercito Gesta, has put it out on social media that after this fight is done and dusted, he and Lomachenko can fight:
"After M. Gesta, I can see you @VasylLomachenko #TeamLinares," he wrote earlier this month.
While Linares, 43-3(27) and winner of his last 12 on the spin, actually says a fight with Lomachenko would not be a hard fight for him. As quoted by BoxNation website, Linares said he would stick around at 135 pounds in order to get himself a fight with the peaking pound-for-pound star.
"I like that fight, Lomachenko is a good fighter. I have a lot of respect for him but it's not a difficult fight for me," Linares told Tha Boxing Voice. "Because we're very similar. He has good legs, very fast and quick but he doesn't have power. I like that style, maybe it's better for me. He's an Olympian, it's a different style. Not a professional style but it's good if he came to lightweight. I'd stay at lightweight for this fight. It would be an amazing fight for next year."
Linares' statement that Lomachenko, 10-1(8) "doesn't have power" may raise more than a few eyebrows, but maybe the talented Venezuelan has seen things that we mere mortals have not. Maybe Linares feels he will be the boxer to crack the Lomachenko Matrix? Certainly there are very few fighters doing what Linares is doing, in actually calling out Lomachenko.
Lomachenko is likely to make the move up to 135 pounds soon, maybe even for his next fight. Maybe Linares will be the elite fighter ready and waiting to meet him in his third weight class when Lomachenko does go up five-pounds. And maybe, as Linares has said, this match-up will prove to be one of the great ones to take place in 2018.
Now, let's hope Linares suffers no serious problems in the upcoming fight with Gesta.