Share the post "Joel Diaz: "There are no other opponents for Tim Bradley until we settle our business with Manny Pacquiao""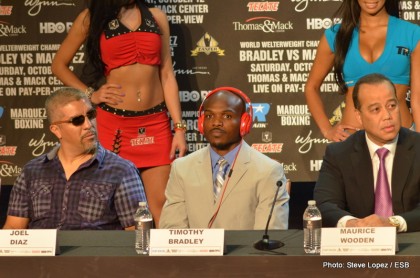 On this week's edition of "The Pugilist KOrner", expert trainer and former Lightweight contender Joel Diaz gave the listeners his thoughts on Tim Bradley's boxing future in 2014.
Although most boxing pundits have stated that a fight with the winner of this weekend's Junior Welterweight Championship contest in Denver, Colorado, between Mike Alvarado and Ruslan Provodnikov would be the most appropriate return bout for "Desert Storm", the talented young fight trainer insists that the WBO Welterweight Champion has unfinished business with Manny Pacquiao.
"There is a wound that absolutely will not heal in my life until we make things clear and set things straight with Manny Pacquiao," states expert trainer Joel Diaz. "I would love to get a rematch with Manny Pacquiao for the simple reason that we need to clear things up in the minds of the fight fans as well."
"I hate controversy in boxing. So that's the fight that I want for Tim…a return bout with Manny Pacquiao. Because of all of the negativity surrounding the first fight, I think it needs to happen."
Despite reading many articles regarding a possible Mayweather/Bradley contest in 2014, Joel Diaz feels that a rematch with the Filipino icon is imperative in order to move forward with his fighter's career.
"I've heard people talking about a potential fight with Mayweather, or a bout with the winner of Provodnikov and Alvarado, but that means nothing to me until we settle this once and for all with Manny Pacquiao."
Although Diaz is passionate in expressing his feelings concerning a future match-up with the Pac-man, most boxing writers and fight fans aren't terribly interested in seeing a return bout featuring Tim Bradley and Manny Pacquiao.
The former Lightweight contender claims that a fight with anyone else besides Manny Pacquiao is not an option.
"I know Tim won't be able to put this behind him until he removes all doubt from his mind," claims the 40 year old fight trainer. "When people say that Tim really didn't beat Manny, or that Tim was given a gift decision, I really hate that. It's hard to live with that."
"I don't care if we win or lose the rematch, as long as we do it without controversy. If it's a clear outcome either way, we can move forward with no regrets."
Admittedly, Joel states that the Pacquiao controversy was a motivating factor while training Tim Bradley for his most recent victory over Juan Manuel Marquez. And after a decisive Bradley victory over Marquez this past Saturday night, the last thing Diaz expected was more controversy.
"We really wanted to decisively beat the fighter who just knocked out Manny Pacquiao, and we did. But hearing Marquez's post fight comments about him getting robbed really bothers me. Everyone knew that Tim easily out boxed him. Everyone saw it."
"What really upsets me about their post-fight comments is that Marquez and Nacho both know what Tim and I have had to go through regarding the Pacquiao controversy and they decided to say that they were robbed anyway. I have a lot of respect for both men, but that was wrong and it really bothers me."
"Even the people who still believe Manny Pacquiao really won the fight with Tim last year are admitting that we decisively and conclusively beat Marquez on Saturday night. It just makes them look like sore losers."
"Timothy went into the fight with a smart fight plan to outbox Juan Manuel Marquez, and that's what happened…end of story. In my mind, that fight is over and there's no need for a rematch with JMM. But the wound is still open surrounding the fight with Manny Pacquiao and we need to close it."
"There really are no other opponents for Tim until we take care of that."
Share the post "Joel Diaz: "There are no other opponents for Tim Bradley until we settle our business with Manny Pacquiao""