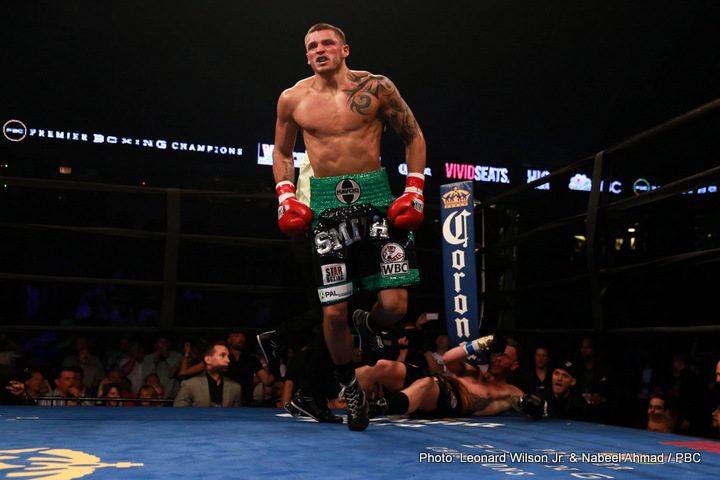 FROM THE COMMAN MAN TO TOP RATED CONTENDER THE RISE OF JOE SMITH JR.
Born and raised on Long Island, the 27-year-old JOE SMITH JR., (23-1 19 KO's), has taken the road less travelled to the top of the light heavyweight division. From battling in the New York Golden Gloves to defeating boxing legend Bernard Hopkins live on HBO World Championship Boxing at the iconic Los Angeles venue, The Fabulous Forum this past December, JOE SMITH JR. proved he shines brightest on the biggest stage.
The next chapter in Smith Jr.'s inspiring career takes place Saturday, July 15 in his triumphant return to The Fabulous Forum against SULLIVAN BARRERA, (19-1, 14 KO's) in a scheduled 10-round clash televised live on HBO Boxing After Dark beginning at 9:50 p.m. ET/PT.
With just 50 amateur fights under his belt, highlighted by a New York Golden Gloves Championship victory over Long Island rival Seanie Monaghan, Smith Jr. made his professional debut on Halloween Night, 2009 knocking out David Brown in the first round at the Mohegan Sun Casino in Uncasville, Connecticut.
Following his knockout victory, Smith Jr. returned to his construction job, working with the General Laborers Union, Local 66. Punching in at 5:30 am and punching the bag at 6:00 pm, Smith Jr. found a balance between being a professional boxer and a Union Laborer.
Smith Jr. followed up his pro debut with five more early knockouts before the only loss in his eight-year career, suffering a broken jaw against Eddie Caminero in August 2010.
Back to work in the summer of 2010, Smith Jr. won his next ten fights and caught the eye of Star Boxing CEO and President JOE DEGUARDIA.
Signing with Star Boxing, Smith Jr. made his debut under their banner on December 20, 2014 with a first round knockout of Maxell Taylor at The Paramount in Huntington, New York.
Two more knockouts followed against Dion Savage and Cory Cummings before Smith Jr. faced fellow New York City area rival Will Rosinsky on December 15, 2015.
Fighting for the first time at the Barclays Center in Brooklyn and on the undercard to the World Middleweight Championship between Daniel Jacobs and Peter Quillen, Smith Jr. displayed an array of boxing skills, an excellent jab and his trademark power shots from both hands to win a dominant ten round unanimous decision.
While Smith Jr. began compiling victories, and rising in the ranks of the Light Heavyweight division, he never lost track of his humble beginnings, and continued to work as a union laborer.
Returning to The Paramount on April 23, Smith Jr. got back in the knockout column stopping Fabiano Pena in the second round.
Smith Jr.'s biggest break of his career came on June 18, 2016 as he traveled to Chicago, Illinois to face Polish hometown favorite and former world title challenger Andrzej Fonfara, televised nation wide live, primetime on NBC.
Coming into the fight a decided underdog, Smith Jr. let his hands go from the opening bell, drilling Fonfara to the canvas with a beautiful right hand to the head. Although Fonfara beat the count, Smith Jr. followed with a flurry of unanswered power shots, which caused referee Hector Atu to call a halt to the action.
With the knockout victory, Smith Jr. was awarded the WBC International Light Heavyweight Title, which Fonfara had held.
Smith Jr. continued to be the peoples champion, just like the athletes of old, maintaining a job while plying his trade as a boxer.
Weeks later Smith Jr. was offered another extraordinary opportunity by his promoter, a fight with boxing legend Bernard Hopkins on Saturday, December 17 at The Fabulous Forum in Los Angeles.
Fighting on the West Coast for the first time, Smith Jr. dominated Hopkins, firing away at will with power shots throughout every round. Sending the future Hall of-Famer though the ropes with a battering combination from his heavy hands, Smith Jr. earned the victory by knockout in the eighth round.
Following the two knockouts of Fonfara and Hopkins, Smith Jr. earned numerous accolades from the national boxing media for "The Story of the Year". "Knockout of the Year" and "Upset of the Year".
Smith Jr. continues his quest to become a world champion by fighting Sullivan Barrera on July 15at The Fabulous Forum, where a victory will bring this Common Man and Top Contender one step closer to realizing his dream of being the Light Heavyweight Champion of the World.
+++
Following his recent knockout of boxing legend BERNARD HOPKINS, Long Island fan favorite JOE SMITH JR. moved right into the mix in the light heavyweight division, boxing's deepest and most exciting.
Working full-time as a union laborer in the New York City area, Smith (23-1-0, 19 KO's) will take a short break from wielding the sledgehammer as he finalizes training for his upcoming 10-round showdown with fellow highly ranked contender SULLIVAN BARRERA, (19-1-0, 14 KO's), on Saturday, July 15 from The Fabulous Forum in Los Angeles and telecast live on HBO's Boxing After Dark (9:50 p.m. ET/PT).
Most recently a new #1 Pound-for-Pound in boxing from the light heavyweight division was heralded as ANDRE WARD defeated SERGEY KOVALEV for the second time on June 17, defending the WBA/IBF/WBO Light Heavyweight Titles. On June 3, longtime WBC Light Heavyweight Champion ADONIS STEVENSON stopped highly ranked contender ANDRZEJ FONFARA.
In addition to those two champions the division is filled with world class fighters and highly regarded contenders including ARTUR BETERBIEV, DMITRY BIVOL, OLEKSANDR GVOZDYK and ELEIDER ALVAREZ .
"It's true the division is truly heating up and I'm honored to be a part of it," said the 27-year-old Smith Jr. "The winner of my upcoming fight moves right into the top of the mix in the division."
"With my last two knockouts I have the full confidence that the sky is the limit for me in this division, I want to achieve my dream of becoming a world champion."
Smith Jr. is promoted by JOE DEGUARDIA'S STAR BOXING who has developed the heavy handed Long Island native over the last few years into a world ranked contender and holder of the WBC International Light Heavyweight Title.
"Timing is always very important when bringing along a fighter to a higher level," said DeGuardia. "We started working together a few years ago and our plan was to continue developing Joe's talents and present him with the right opportunities for success. This is a formula we've used many times in the past in building fighters the right way."
"When the opportunity came to fight Andrzej Fonfara we believed as a team that Joe was ready and he was spectacular in the first round knockout victory. The same with fighting Bernard Hopkins, it was a great opportunity and Joe put on another star making performance."
"With the Sullivan Barrera fight the stakes are even higher but we feel this is another great opportunity for Joe, back on HBO which has built many stars over the last forty years."
Known as "The Common Man", Irish-American Joe Smith Jr. burst onto the international boxing scene last June, knocking out the highly favored, former world title challenger Andrzej Fonfara in the first round of a nationally televised contest (NBC) from the Pole's hometown of Chicago.
Six months later Smith challenged future Hall of Famer Bernard Hopkins at the Fabulous Forum and live on HBO. Dominating the legend on December 17 through the first seven rounds, the construction union laborer Smith drilled Hopkins to the canvas and out of the ring earning the knockout in the eighth round.
Sullivan Barrera is riding a two-bout knockout streak with victories over Paul Parker on April 15 and Vyacheslav Shabaranskyy on December 16, 2016. His only loss was to light heavyweight champion Andre Ward by unanimous decision in March 2016, and Barrera is considered one of the top fighters in the stacked division.
Smith vs. Barrera is presented by Joe DeGuardia's Star Boxing and Main Events. This fight is part of a sensational triple header featuring Miguel Berchelt vs. Takashi Miura, a 12-round fight for the WBC Super Featherweight World Championship and the WBA Super Featherweight World Championship with Jezreel "El Invisible" Corrales defending his title against Robinson "Robin Hood" Castellanos. Berchelt-Miura is presented by Golden Boy Promotions in association with Zanfer Promotions and Teiken Promotions.
Tickets are priced at $25, $50, $75 and $125, not including applicable service charges and taxes, with a total ticket limit of 12 per person. To charge by phone with a major credit card, call Ticketmaster at (800) 745-3000 or the Forum Box Office (Monday through Friday 11:00 a.m. PST to 7:00 p.m. PST) at (310) 330-7300. Tickets will also be available for purchase at www.fabulousforum.com or www.ticketmaster.com.