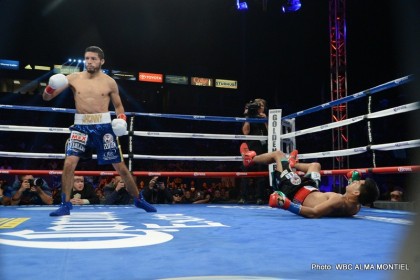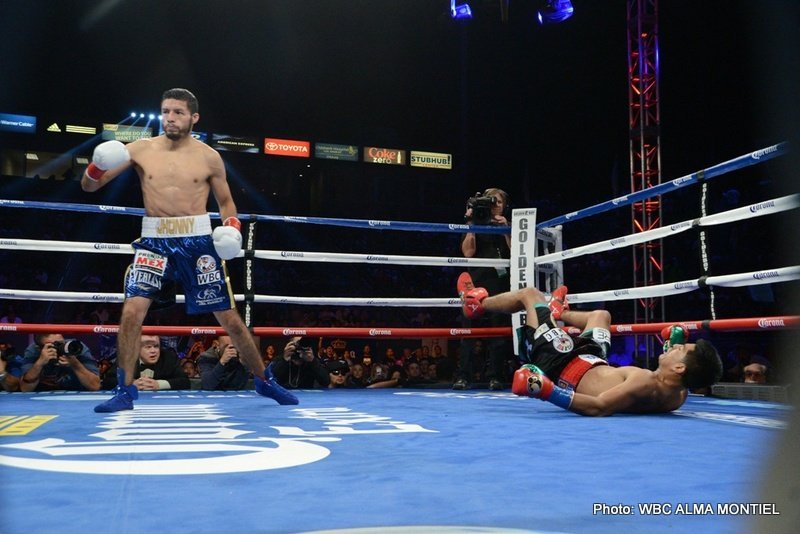 Jhonny Gonzalez was supposed to be on the way down. After all, hadn't he lost an 8th round TD to Daniel Ponce DeLeon, a fighter that Mares stopped? The odds makers thought so, and so did most boxing analysts; although, most qualified their opinions by saying he had a puncher's chance. They would go on to describe how well Mares successfully dealt with different styles to remain undefeated. Abner was more versatile than Jhonny. Well, it took Jhonny less than a round to fool Mares and prove all the detractors wrong.
The fight started with a relative calm. Jhonny moved in a circle around his shorter foe. Abner appeared to be studying, probing, looking for openings. The trio of Showtime announcers: Mauro Renallo, Al Bernstein and Paulie Malagnaggi discussed Jhonny's remarks made in the pre-fight meeting. Apparently Jhonny remarked tat he needed to get his jab working against Mares, and that would be his key to victory. Saturday night at the Stubhub Center in Carson, CA, it didn't look like Jhonny was following his own advice. The announcers pointed that out, explaining that Jhonny was just tapping out with his jab. There was no power or snap to it. It was not a jab that would keep Abner away.
Mares brushed it aside like an annoying bug, and then moved in to unload with a combination. As the action started to heat up, it seemed like Mares was going start making things uncomfortable to Jhonny. Then, after few of those light tapping jabs from Jhonny, he stepped in an uncorked a beautiful left hook. Mares' right glove was still out front from parrying the light jabs, so Jhonny's left hook had an unobstructed pathway to Mares' jaw. Down he went. What a shocker! Oh well, Mares had been down before in his career, and without question his fans thought he would quickly shake off the cobwebs and resume his game plan. It looked like that might be the case. Abner beat the count, and made the necessary positive responses to the referee, so the action resume.
Jhonny quickly moved in. There was no way Jhonny was going to let this opportunity slip from his grasp. Mares, not surprisingly, didn't look himself, but his champions heart wanted to fight back. So, instead of clinching he tried to punch back. That, and the fact the he still hadn't regained his senses, made him vulnerable. He was still on queer street, and an easy target for Jhonny's attack. so much so that Jhonny got through with about four more decent left hooks, and then a real cruncher. He topped it off with a hard right to Abner's forehead as he was awkwardly on his way down to the canvas. His right leg was bent underneath his body. Referee Jose Garcia adminstered the ten count. The tough, versatile champion experienced his first defeat, and one that occurred in spectacular fashion at 2:56 of the first round. Gonzalez fans couldn't have wished for a better result. Now Gonzalez proudly walks off with the WBC featherweight championship, and Abner is left to wonder, Where do go from here?