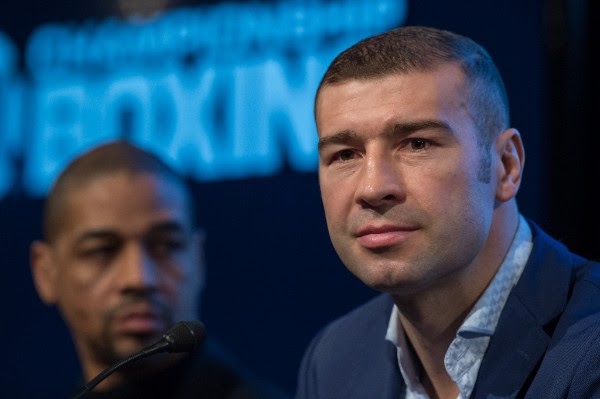 (Credit: Vincent Ethier / InterBox) MONTREAL, April 7th 2016 – A press conference to discuss the WBC super-middleweight world championship bout between Lucian Bute and Badou Jack was held Wednesday at the Bell Centre La Cage – Brasserie sportive restaurant In Montreal. Here is what the participants had to say.
Lucian Bute
Former IBF super middleweight world champion
"This chance at another world championship fight is a great opportunity for me. Taking part in two world championship bouts in a row is not easy, but it makes me quite proud. I'm in good health and I've been in th gym since February. When the phone rang, I said yes without hesitation. When you are given the opportunity to fight for a world title, at this level, you cannot refuse. I haven't been injured in a long time. Although I had some small doubts before going up against DeGale, after the performance I came up with against him, my confidence level is now at 100%. I can see it in the gym and everyone can see it, including my trainers and my sparring partners! I'm hungry for another championship title, like I was when I was younger, at age 26 and 27. I want to take away the belt from Badou Jack. I respect him, he has a good background at the amateur level, he went to the Olympic Games and he showed that he was part of the boxing elite when he beat Anthony Dirrell and George Groves. But on April 30, the province of Quebec will have a new champion!"
Badou Jack
WBC Super Middleweight World Champion
"I'm excited to face a great champion like Lucian Bute who I know will bring the best out of me. I'm looking forward to showing off all of my skills," said Jack. "I want to be considered the best in the division. Undisputed. I have to beat great fighters like Bute to get there and I look forward to the challenge."
Howard Grant
Lucian Bute's trainer
"We will go to the American capital and bring back the belt! When the phone call came, we sat down in the office, Lucian and I. I asked him what were his thoughts about such a matchup and he anwered : 'Howard, I would go up against him for free. I will win!' That's all I needed to hear. Training Lucian is easy; he is a student of the sport. He watches a lot of video. He makes me a better trainer."
Jean Bédard
President – InterBox
"This is good for boxing in Quebec. Lucian's performance against James DeGale put him back where he belongs: at the top! I told him after that fight that the phone would soon start to ring. And I am convinced that he will be even better this time, because he has found his confidence back. It has also been 13 years since Éric Lucas had his WBC belt stolen away from him in Germany. When we signed Lucian, we said that we would get Éric's old title back, but I never thought that such an opportunity would come 13 years later! Lucian's performance will give a big boost to boxing in Quebec."
Éric Lucas
Former WBC super-middleweight world champion and InterBox representative
"I'm very proud that Lucian now has the opportunity to bring back the belt that was stolen away from me in Germany. I am convinced he can bring back the title here in Quebec. It will not be easy against Jack : he has a long reach, he punches hard and h relies on a good right hand, but Lucian has the tools to win. I predict, in fact, that he will bring back the belt in Quebec and I will then be proud to say that this belt used to be mine! This will put me back on the map!"
Tickets for the live event, which is promoted by Mayweather Promotions and InterBox in association with Matchroom Boxing, are priced at $200, $100, $50 and $25, and are on sale now. To purchase tickets visit www.ticketmaster.com, Ticketmaster locations, or call (800) 745-3000.