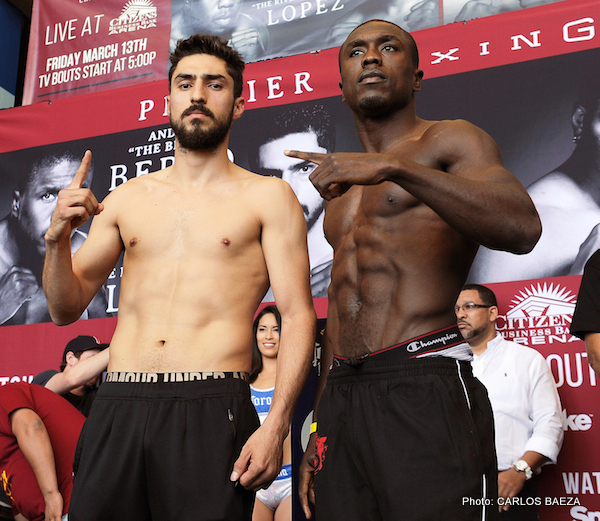 After a successful debut last Saturday night in primetime on NBC, the (PBC) Premier Boxing Champions will make its Spike TV debut this Friday night for what will become a monthly boxing series on the network. The main event features a classic back-against-the-wall matchup that should produce an entertaining scrap. The card will take place in Ontario, California, from the Citizens Business Bank Arena. The co-feature matches former welterweight champion Shawn Porter versus hungry contender Roberto Garcia.
Andre Berto was an HBO sweetheart after he climbed the ranks from prospect, to contender, and eventually champion. Every step of the way he looked every bit the part sporting elite hand speed and plenty of punching power.
The American fighter with Haitian roots also had a style fit for big-drama-show (sorry GGG) being dropped or hurt a few times before stepping into the ring with "Vicious" Victor Ortiz for what would be his biggest fight to date.
Berto went to hell and back in a war that was one of the best fights of 2011. Since that loss, Berto has fought only 4 times, losing in yet another war to Robert Guerrero and was stopped by Jesus Soto Karass two summers ago. Injuries have slowed momentum in Andre's career and now he looks to be fully healed both mentally and physically heading into this crossroads fight.
His opponent on Friday night will be the fighter that goes by "The Riverside Rocky", a nickname he earned by upsetting Victor Ortiz, who got caught looking ahead to his PPV fight with Canelo Alvarez. Josesito Lopez broke Ortiz's jaw forcing Victor to quit on the stool and in the process landed Lopez a marquee bout with Canelo. The rise in weight combined with Canelo's skill proved to be too much for Josesito. Much like his opposition on Friday night, Lopez is in the process of regaining a foothold at 147 after a brutal brawl against Marcos Madaina in which he was stopped in the 8th round two summers ago.
Guerrero, Ortiz, and Maidana all parlayed their biggest wins against both of these fighters into major title fights. Now the winner of Berto vs. Lopez will catapult their career right back into the mix of the ever-growing welterweight division. That fact alone gives boxing fans promise of a battle between two men willing to lay it all on the line for victory.
The first question I had pertaining to this matchup was what each fighter had left in their tank. Both men have taken punishment and at some point every fighters punch resistance runs thin. Adding another layer to this category is the subject of injury, which would presumably favor Josesito Lopez. Berto's past arm injuries are well documented and at any time injury could rear its ugly head resulting in a huge advantage for Lopez. Of course we can't rule out the possibility a severe cut around the eye which could change this matchup considerably. Both men had some issues with cuts recently and overall swelling around the eyes in Andre Berto's case.
This bout may start slow considering how serious of a fight it is and the recent activity levels of both at the top level. Neither guy has been in tough since the summer of 2013 so I assume the pace will begin to pick up around the third. Once the action picks up expect a fast pace that goes back and forth as each fighter figures out their strengths and opponents weaknesses.
Berto will need to keep his hands up and not rely on that Maywather knock-off, shoulder roll defense that got him in trouble against Guerrero and Soto-Karass. Using his jab, a weapon that both fighters posses will help set up his overhand right and uppercuts on the way inside.
For Lopez a jab and subtle lateral movement will be a key to keep Berto at range. Lopez will have to use his slight reach to keep Berto at the end of his punches. Both men have boxing skills but neither of them defends all that well, which will lend itself to being a fan friendly fight.
Barring an injured bicep or arm in general I see Andre Berto gutting this one out. It won't be easy by any means but the hand speed combined with a smarter gameplan should be a big enough difference maker for victory. Somewhere at the mid-point maybe the 7th or 8th round, Berto will use flush shots to sway the judges in his favor. I could see both fighters buzzed or hurt and a trip to the canvas wouldn't surprise me in the least bit. In the end speed will be Berto's calling card and the main reason he wins this Friday.
My official prediction is Andre Berto by Unamoius Decision.
The co-feature should be a barn-burner or it could be ugly and slow as hell with both fighters smothering in an attempt to gain an advantage on the inside. Clearly this scribe is on the fence when it comes to how this bout will be fought. Both Shawn Porter and Roberto Garcia love to dig shots to their opponent's body as they close the gap inside.
As of last August, Shawn Porter was considered a real threat by many to beat Floyd Mayweather after his rise to a title saw him dominate Devon Alexander and destroy Paulie Malignaggi. In steps Kell Brook, an unbeaten contender from the U.K. Speaking of smother, after being first majority of the fight Kell Brook was able to clinch his way to a victory and in the process take Porter's 147 pound belt back to Britain.
Roberto Garcia's life inside and outside of the ring has been a rough road as documented in the lead up hype show on Spike TV. By the way that hype show was solid and a nice break from the standard HBO 24-7/Showtime All-Access format boxing fans have become accustomed too. Overall it was way less fake and deals with the fighters backgrounds better.
Roberto's only loss came in 2010 by the (possible plastered) hands of Antonio Margarito. Three fights in a matter of six months which included Breidis Prescott and Victor Cayo put Garcia on the 147 pound map and now he aims at making a big wave on the world scene by beating Shawn Porter.
Both men have similar objectives they want to accomplish not only by winning this fight but how they plan on doing so. Overhand rights, left hooks to the head and body, all while dipping in and out will likely be Shawn Porter M.O. He needs to use his hand and foot speed to help fluster Garcia. Porter has already been calling out names so it will be interesting to see if he is fully focused on the task at hand. If the plan for Porter is to simply walk in the ring and beast Roberto out, he will be in for a rude awakening.
Roberto needs to bully and smother Porter for all it's worth. He won't be able to match Shawn in the speed department so he must bring his warrior spirit to force a path inside. Once he's closed the gap, activity and heavy body punching will be crucial. The old saying that speed kills is very true, but speed can be smothered and slowed by punches that sway downwards to the hip.
As previously mentioned the style of this fight could produce fireworks and here's hoping for our sake it is a two-way battle. Or at the very least let's hope there's action between the spots of smothering and methodical pace we could be in for. As is the case in the main event, I see the cleaner punching being done by Shawn Porter.
My official prediction is Shawn Porter by Unanimous Decision.
Written by Chris Carlson Owner and Host of Rope A Dope Radio blogtalkradio.com/ropeadoperadio
Follow on Twitter @RopeADopeRadio