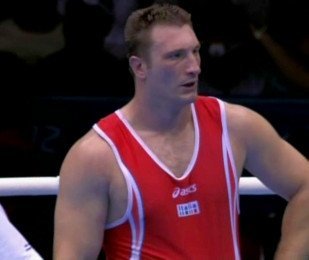 By James Slater: While London 2012 Olympic super-heavyweight gold medallist Anthony Joshua says he will stay an amateur and shoot for more gold in Rio in 2016, the man who was closely, controversially out-pointed by the Londoner says he plans to join the pro ranks soon.
Italy's amateur great Roberto Cammarelle, still angered and dismayed at the countback decision that went against him this past Sunday, would possibly make an exciting addition to today's heavyweight ranks. As experienced as they come at amateur level – with a bronze, a gold and, most recently, a silver medal being claimed at Olympic games; along with a number of honours at European and world amateur level also won – Cammarelle has already shared a ring with a few recognizable pro names.
The 32-year-old 6'3," approx 230-pound southpaw holds amateur wins over David Price and Kubrat Pulev, while he has lost to Alexander Povetkin. No doubt, once he's climbed up the ranks at pro level, the Italian who is coached by former WBO heavyweight champ and 1984 Olympic silver medallist Francesco Damiani will look to get in there with these and other names.
Having a solid chin, fast hands, good power and a somewhat awkward, opponent-draining style, Cammarelle has to be given a real chance of making it as a pro. At age 32, time may not exactly be on the southpaw's side, but heavyweights do mature later and they also last a lot longer these days. The fighter who also works as a police man in Italy will likely need a fair amount of time in which to adopt to the pro style, especially after such a long and illustrious amateur career, but I think there will be a number of top promoters eagerly trying to sign the gifted boxer/puncher.
It sure would be interesting to see Cammarelle, in a few years, tangling with the best American, British, German and Russian heavyweights – to say nothing of two legends from Ukraine. Cammarelle says he is pretty much disgusted with the Olympic decision that went against him – "This type of boxing no longer represents me and I don't like it," he said – and he is now planning a campaign that he hopes will lead him to professional gold.
But will Cammarelle become the next Rocky Marciano (born of Italian parents), the next Primo Carnera, or somewhere in between?