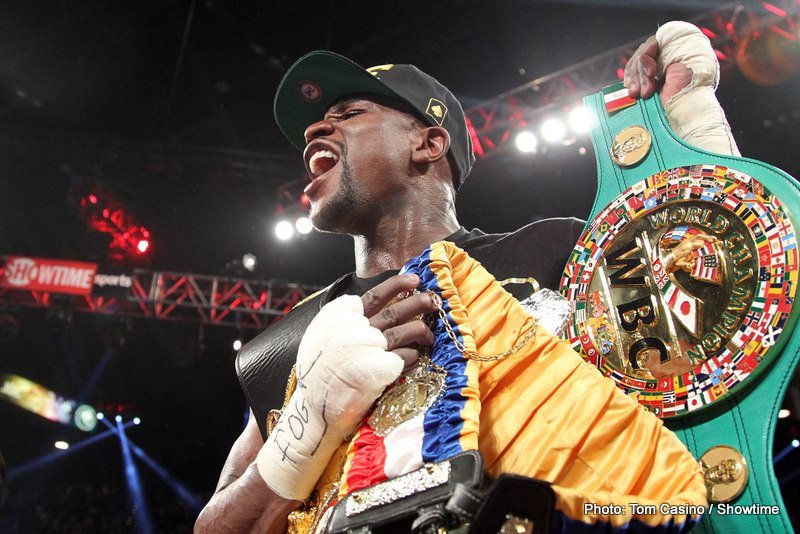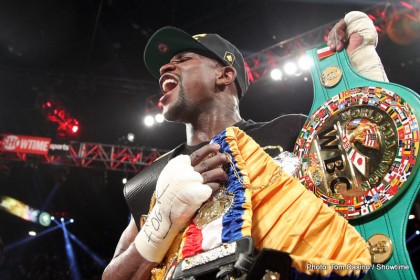 After Floyd "Money" Mayweather Jr.`s (45-0, 26KOs) twelve round domination against Saul "Canalo" Alvarez last month, garnering the World Boxing Association and the World Boxing Council`s Light Middleweight Belts, his claim of being the best pound for pound pugilist of all time, gained even more credence.
He demonstrated in his last fight that it appears that there is no one in the world that can defeat him. The last 45 opponents tried and failed and none of them besides Jose Castillo, in their first fight, even came close to conquering Mayweather. Mayweather beat him in the rematch, leaving no doubt as to who was the better boxer. Money doesn`t just win bouts, he dominates them and takes the fight to his opponents, which is made all the more impressive when considering that he`s 36 years old, has been fighting for the last 17 years and often times is facing a younger and stronger opponent, as was the case with Alvarez.
Alvarez, who was 13 years his junior, weighted 17 pounds more than he did when they fought, was undefeated and was considered the next boxing super star; yet, he couldn`t do anything against Mayweather. Mayweather controlled the entire bout, outpunched, out landed and outworked Alvarez. He made that bout and all of his other ones; look extremely easy because of his unbelievable talent and brilliant defensive style that is one of the best ever. His also demonstrates great speed and power, which shows no sign of regressing.
When you compare Mayweather to the all-time greats, he has to be considered in the upper echelon of the best fighters ever because his credentials are impressive and comparable to many of the top 15 pound for pound best fighters ever. He`s a two fighter of the year in 1998 and 2007 and has an opportunity of being selected a third time this year for being 2-0, the other victory coming against Robert Guerro in May. He`s an eight time world champion in five weight classes and has won the lineal title in four of the five divisions, he has fought in.
Mayweather has been ranked the number one pound for pound best fighter in the world for the last several years and defeated 22 world champion opponents, representing almost half of the boxers he has faced, something not a lot of fighters accomplish. He`s also undefeated which is extremely difficult to do since very few boxers have done that, much less fought the competition that he has. Some of the potential Hall of Famers he beat include: Miguel Cotto, Shane Mosley, Juan Manual Marquez, Ricky Hatton, Oscar De La Hoya, Genaro Hernandez, Castillo, Diego Corrales and Zab Judah.
Some individuals argue that Mayweather shouldn`t be in the discussion of one of the best pugilists ever because fighters were a great deal better in the 1950s through the 1970s when many of the all-time greats fought. This is tough to hold against Mayweather, when he has no control over the quality of the fighters boxing today. It`s extremely difficult to compare boxers from one era to another when there are too many different factors to consider and because boxing is very different now than it was 40 to 60 years ago.
Other Mayweather detractors claim that he`s not as good as he believes because he handpicks his opponents, many of them had to move up in weight to fight him, they are not as good as their records indicate and he avoids the really exceptional boxers. They will content that Marquez and Hatton fought at a higher weight class than they usually box at and De La Hoya, Judah and Mosley were beaten at the end of their careers.
Mayweather has a slight advantage when fighting boxers who are moving up in weight; however, these men had amble time to get acclimated to the additional weight , Mayweather has had to move up in weight classes throughout his career and lately, he`s fighting the bigger opponents. While some of his opponents are not the best, he has fought for the most part the top boxers out there and with the exception of Manny Pacquiao and a prime Antonio Margarito, there are not too many additional fighters that he should have fought but didn`t and who`s to say he didn`t try to make the Pacquiao and other mega fights happen.
Whether you like him or not, you have to appreciate that he`s one the best fighters in the last 25 years and considered at the very least one of the top 15 pound for pound boxers of all time. Depending on how he does in his remaining four fights that he has left on his Showtime contract and any additional bouts he pursues thereafter, which he`ll most likely prevail, it will only help to bring more clarity in determining where he stands among the all-time greats. If he can defeat Robert Garcia, Andrien Broner, Timothy Bradley and move up in weight and beat Sergio Martinez and or Bernard Hopkins, who`s willing to come down to 160 pounds, he would have to be strongly considered one of the best ever.