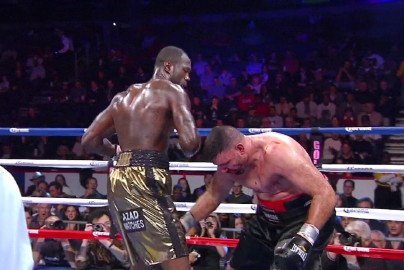 Golden Boy Promotions CEO Richard Schaefer expects WBC heavyweight champion Vitali Klitschko to vacate his WBC title at any moment now that he's announced that he plans on running to become the president of Ukraine. Once Vitali's title becomes vacant, Schaefer's plans are to match Golden Boy fighter #3 WBC Deontay Wilder (30-0, 30 KO's) to face #1 WBC Bermane Stiverne (23-1-1, 20 KO's) for the vacant WBC heavyweight title in early 2014.
Schaefer said this at the post-fight press conference last Saturday following Deontay's 4th round TKO win over Nicolai Firtha "Deontay is right there at the top 2 or 3 ratings with the WBC. With the news we got last week that Vitali Klitschko is going to be running for the president of the Ukraine, I anticipate that the [WBC] title will become vacant. And my goal is to have Deontay fight his next fight for the WBC heavyweight championship against Stiverne, and then after that go after Wladimir Klitschko, unify all the titles."
#2 WBC Chris Arreola might have something to say about being passed over for a shot to fight for the vacant WBC title given that he's ranked higher than Deontay. However, Deontay has Golden Boy Promotions behind him and that's probably going to tilt things in Deontay's favor to be the one to face Stiverne. Besides that, Arreola was just soundly beaten by Stiverne last April in a 12 round unanimous decision loss and it doesn't make any sense for Arreola to be facing Stiverne again after such a one-sided loss. It would be far better for boxing to have Deontay facing Stiverne and then having Arreola fight someone like Tyson Fury, Tomasz Adamek or Magomed Abdusalomov in a WBC eliminator bout.
Vitali hasn't defended his WBC title since September of 2012 when he beat Manuel Charr in an optional title defense. It's been two years since Vitali fought a mandatory title defense in beating Adamek. Vitali defeated Dereck Chisora in February 2012 in another optional title defense. The WBC has given Vitali some time for his injured hand to heal, but they're expecting him to defend the title in early 2014. It's not expected that Vitali will bother to do that due to his political ambitions taking up so much of his title.
Deontay vs. Stiverne should be an interesting fight given the power of the two fighters. Stiverne has explosive power, but he's quite short at 6-foot and he's getting up there in age at 35. He'll be turning 35 next month and his career has brought a long very slowly for some reason. Deontay will have a big height advantage over him. However, Deontay hasn't faced anyone as good as Stiverne and we're not sure yet whether Deontay can take a big shot without caving in. He prides himself on being able to avoid getting hit by his opponents, but it's difficult to imagine Deontay being able to make it 12 rounds with Stiverne without getting hit with some big shots.