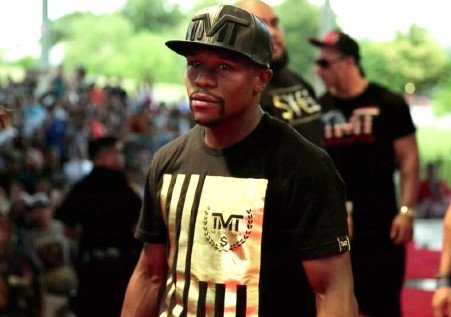 Matchroom Sport promoter Eddie Hearn is dreaming big as far as potential opponents he'd like to line his fighter WBA welterweight champion Kell Brook (33-0, 22 KOs) against next year in 2015. On his wish list is Amir Khan, Floyd Mayweather Jr and Manny Pacquiao.
Hearn will have to use all of his skills as a promoter to lure Pacuiao or Mayweather into a fight against Brook. The only way it makes a lot of sense is if they agree to come over to the UK and fight Brook in front of 80,000 fans at Wembley Stadium in London, UK.
Fighting Brook in the U.S is a waste of time because he doesn't have the name value that will register with the casual boxing fans, and the pay-per-view sales will likely be disappointing to say the least.
Hearn will obviously take whichever fighter makes the most sense financially and whoever is the easiest guy to make a deal with. Either way you look at it, Mayweather and Pacquiao might be a bridge too far for a fighter like Brook. Pacquiao and Mayweather have extraordinary skills.
They're not someone that Brook is going to be able to beat by catching them with occasional shots while they're looking to land or by holding them all night long.
"We'll be doing a lot of planning over the next couple of weeks," Hearn said via Skysports.com about Brook's future fights. "We'll look for that big fight next year – maybe with Khan or maybe with Pacquiao or Mayweather?"
Brook will make out well just by getting a fight against Mayweather or Pacquiao. It wouldn't matter that he'd likely lose badly. He'd get a huge payday that would be as Hearn says "a life changing event" for him. If Brook were to never win another world title for the remainder of his career, he'd still have that one big payday from a Mayweather or Pacquiao fight to keep him living well during his retirement years.
Brook is kind of stiff with his fighting style, and not someone that would do well against either Mayweather or Pacquiao. As it is, Brook barely beat Shawn Porter last Saturday night. He was outworked by him out-landed in the fight.
Brook got the win because he landed the cleaner shots despite being out-hit. But against Mayweather or Pacquiao, Brook won't have the advantage in landing the cleaner shots because those guys would get the drop on him in every round. Unless Brook decides to clinch them all night long like he did with Porter, he's not going to have advantage against them.