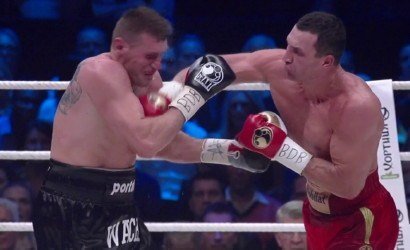 Rob Moore: After watching another Wladimir Klitschko win, this time over the even bigger Mariusz Wach, I had to face up to the fact that my interest in watching much of what the heavyweight division has to offer, has waned considerably . The same division that that used to excite me and initiated my lifelong interest in the sport.
So many fights are truly underwhelming with guys showing limited range of skills, movement and conditioning, leading me to bore my kids with accounts of quality of fighters who graced the division in the past. You could never accuse Wladimir of not coming in in top condition and Wach showed great heart, but was the fight really top quality boxing and entertainment?
Unfortunately it seems like my diminished interest is shared by many, particularly in the US which just isn't good for the sport's future. There is certainly a valid point made by many that the Klitschko brothers have dominated the division for so long that it has hurt the division outside of Germany. While there is some mileage in that view, I see the problem as being more fundamental, and can be largely attributed the sheer size and weight of modern day heavyweights and the limitations this brings. The Klitschko brothers weight in fit at around 245 pounds. They are undoubtedly phenomenal athletes and developed a style that has made them pretty much unbeatable. The question is – is it exciting? More to the point, how often do 240 pound plus fighters produce quality or exciting fights?
Watching back video of fights in the 70s and 80s in you can help but be struck by the contrast in the hand and foot speed and general condition the guys brought to the ring. Movement, combinations, as well as power. I'm talking about the likes of Frazier, Ali, Shavers, Holmes, Lyle, Norton, Tyson, Quarry, Thomas, Holyfield, Foreman and Lewis, etc., etc. Of these , only Lewis stacks up size wise against the current heavyweights. Even "Big" George Foreman would weigh around 217-225 pounds at his peak. The great Ali weighed a mere 206 pounds when he beat Liston.
Taking a look at the current crop of heavyweights that most commentators see as having a shot of taking over from a Klitschko, you are hard pressed to find anyone weighing under 240 pounds. Mitchell, Price, Fury, Helenius and Pulev are all 240 pounds plus. Deontay Wilder at 6'7'' is currently a slimline 230 pounds. Vitali last opponents Manuel Charr weighed 241 and Mariusz Wach weighed in at 249. These are huge men, and while their size and power does in itself create an intrigue, we are missing the classic quality contests the 200 -225 pound fighters of the past were able to deliver. Arguably there are only three fighters who are considered as top ten heavyweights who are not huge. Chambers, Adamek and Haye have mixed it with the big guys but unfortunately Haye appears the only one with the power to hurt the today's giants. I used to believe that a good 200 pound guy was big enough powerful enough to compete with anyone. The size of modern heavyweights is proving that belief to be outdated.
Despite misgivings about there already being too many belts on offer, I think the time has come to create a new division – a superheavyweight division for fighters weighing over 225 pounds. The step between the 200 pound cruiserweight and 240+ pound heavyweights who dominate the division is too great. This is genuinely not a response to the dominance of the Klitschco brothers. It doesn't matter which of the upcoming giants ends up taking over. There are simply not enough fighters at 240 pounds that have the ability to provide the skills and movement that the 210 pound guys can produce . A new heavyweight division could resurrect a size and breed of fighter that gave us the qualities and excitement that are missing as things stand. This would surely provide a fresh impetus and is way preferable to the creation of meaningless titles such as the WBA title held by Povetkin.