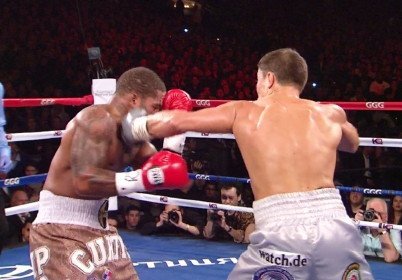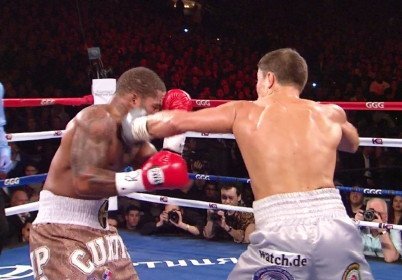 On Saturday night, Gennady Golovkin defeated Curtis Stevens in front of nearly 5,000 fans at the Theater in Madison Square Garden. Golovkin won by TKO as Stevens' uncle and trainer Andre Rozier stopped the fight after round eight. The victory takes "Triple G's" record to 28-0 (25 KOs), while Stevens falls to 25-4 (18 KOs).
"I give myself a grade of 10," Golovkin said after the fight. "I am ready to fight anybody, but specifically I want to fight Sergio Martinez."
Gennady, I've got news for you. We want you to fight Martinez too. Golovkin already has a February 1, 2014 fight date set in Monte Carlo. No doubt he won't get Martinez on that date, as Sergio's team is trying to lock up a fight with Miguel Cotto.
However, Golovkin finished a busy 2013 as he ended it 4-0, with all victories by stoppage. He enjoyed wins over Gabriel Rosado, Nobuhiro Ishida in Monte Carlo, Matthew Macklin, and Stevens. He will be a finalist for fighter of the year in 2013.
Curtis Stevens, for his part, has absolutely nothing to be ashamed of as the loser. Stevens showed some serious fortitude by getting up from the left hook that dropped him in the second round. A round or two later, he cleared his head and began to land some shots that probably won him the fourth and fifth rounds. I thought Stevens was effective with his jab and hand speed. His speed early on and the jab once he recovered from the knockdown. Curtis was simply in there with a monster. Outside of Golovkin, I believe Stevens could be competitive against the best 160 has to offer. To be honest, the moxie that Curtis displayed in this fight might get him another date with HBO. Sometimes a loser can be a winner when it comes to being showcased on the big platform.
From here, I think Golovkin will try to stay as busy in 2014 as he was in 2013. He has issued challenges to Floyd Mayweather, Jr at 154 and Martinez at 160. I don't believe either of those fights happens in 2014. Andre Ward at 168? I don't think it happens in early 2014. I'm not sure it happens later in the year either. HBO wants Ward in a big fight. The question is, does Ward want the fight prior to 2015, if at all? Unlike Ward, one guy I know who will fight Gennady at 168 anytime, anyplace, and any year is Carl Froch. I'd love to see him in with Gennady. As Stevens' hat read on Saturday, I see an all-out "War" if this fight can be made.
For Stevens, I think he will be back on HBO. I'd like to see him get some rest and then challenge a Peter Quillin (an all-Brooklyn affair like Judah/Malignaggi), or Danny Jacobs (same deal), or another top 15 guy.
One thing I noticed on Saturday night. While Stevens may be from Brooklyn, Triple G is definitely The King of New York at this point. The house was packed with fans from Kazakhstan and even parts of Germany, all in attendance to root for their hero. There was a buzz all night in The Garden, even during the non-televised portion of the card. A few fights that broke out in the stands didn't hurt the cause.
I actually look forward to both men having a strong 2014. Stay tuned!