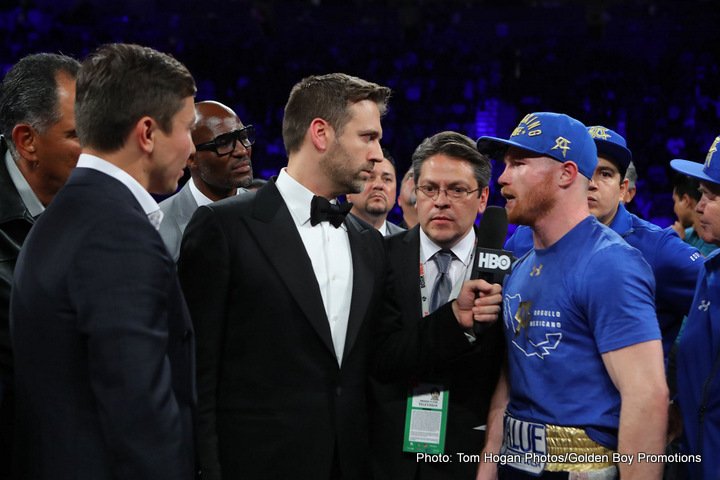 It's a big fight – the biggest of the year – so it is fitting that the upcoming world middleweight title fight showdown between champ Gennady Golovkin and challenger Saul Canelo Alvarez will play out on the big screen. As per a story from Dan Rafael of ESPN.com, 400 cinemas throughout America will show the fight, and the supporting card, live on September 16.
Both fighters and their respective promoters are thrilled at this move and fight fans who choose to visit a cinema to watch the fight many people are saying will deserve to be ranked alongside great and legendary middleweight battles of the past – such as Hagler-Hearns and Leonard-Hagler – are in for a potentially great night.
"It's a great way to enjoy the best boxing spectacle of our era and as well as Gennady's theatrical debut," Tom Loeffler said.
"I am looking forward to having the fans see the big drama show on the big screen," GGG stated.
Canelo is especially motivated to win the big fight, as it will take place over Mexican Independence Day weekend.
"That makes me even more determined to offer fans a fight full of intensity on a very special date for Mexicans," Canelo said.
With less than two weeks to go until fight night, fans are making plans regarding the best way to see the fight. Whether you tune in at home or pay a visit to the cinema, the excitement is going to be BIG. And Loffler, in speaking with ESPN Deportes, says the winner of this fight will become the best in the world pound-for-pound.
"This 16th of September we will know who should be considered as the best fighter I the world," Loeffler said. "I expect an exciting, explosive fight since neither fighter is used to going backwards."
Fans agree this fight promises to be exciting, but will the winner really be the best P-4-P in the world? Better than Vasyl Lomachenko? Better than Terence Crawford? Better than Andre Ward?
Whoever wins on September 16, the pound-for-pound debate is sure to continue.