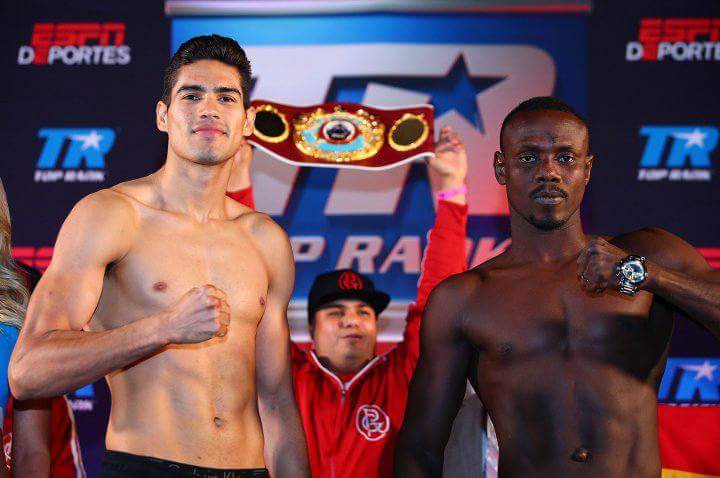 Ghana's undefeated WBO Africa super middleweight champ, Habib Ahmed (25-0-1, 17 KOs) has the chance to write his name in the record books later tonight in the USA when he faces reigning WBO super middleweight champion, Gilberto Ramirez (36-0, 24 KOs) for the world title.
Ahmed who goes into his first professional fight outside of Ghana, tilted the scales at 166.75 lbs to the 168 lbs of Ramirez who even needed to strip naked before making the limit at their weigh-in on Friday at the American Bank Center in Corpus Christi, Texas, same venue for the fight itself on Saturday night live on ESPN.
It will be a third defence of the title Ramirez first won by defeating Arthur Abraham in April 2016 against the largely unknown Ahmed but the Mexican is taking nothing for granted.
It may look tough on paper against the hard hitting Ramirez who aside the over one pound weight advantage, also towers above the Ghanaian but Habib Ahmed is not overawed and has vowed to shock the world and follow in the footsteps of legends D.K. Poison, Azumah Nelson, Ike Quartey, Joshua Clottey, Joseph Agbeko and the many other Ghanaian world boxing champions.
"I am not afraid at all, I'm here to make myself, my coach and my country proud. We have prepared very well for this fight and I promise to go out there to win," Ahmed said.
"It's true that it's my first fight in the US but I travelled to many places as an amateur boxer at African level, Commonwealth level and world level so I won't have any problem. It has been my dream to be a world champion. This opportunity has come to us and I'm going to take it," Ahmed added full of poise.
Equally confident of causing an upset at the American Bank Center tonight is Coach Ofori Asare, the experienced trainer of Habib Ahmed.
"We thank everyone who is in his personal way praying and supporting Team Habib Ahmed, we know a lot of people think we have no chance but nothing is impossible, we believe in the team and hope we can make Ghana proud," Coach Asare told this reporter few minutes ago.