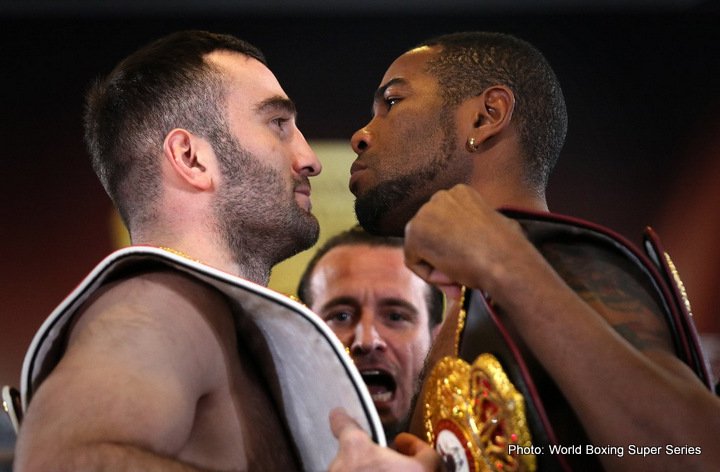 The second semifinal of the World Boxing Super Series takes place this Saturday night in Sochi, Russia. On paper, this cruiserweight matchup between Murat Gassiev and Yunier Dorticos is by far the best opportunity of producing a fight of the year outcome. Both men have legit one-punch power as proven in recent fights. Prior to the WBSS neither fighter had much of a chance to secure large paydays against high-end talent. Now they find themselves a win away from an opportunity to become undisputed outright.
Prognosticating this bout is not an easy task. The styles that each bring to the ring will guarantee an explosive fight, one with ebbs and flows within the same round likely. Generally speaking, when the term war comes to mind it makes us think of a slugfest. That may not be the case due to the skill side of things. 
In Dorticos you have a natural counterpuncher with dynamite in both hands. Unlike most counterpunchers and quite frankly Cuban amateurs, Yunier doesn't shy away from exchanges. In spots he will lead, abandoning his skill-set to engage his opponent. When, not if that happens Dorticos tends to throw wide punches thus exposing him to danger. His phenomenal bout versus Youri Kalenga back in 2016 is a prime example and one hell-of-fight scrap worth a watch if you missed it. 
I first saw Murat Gassiev fight on television and left thinking nothing of note. When I covered him ringside witnessing one of the best knockouts of 2016 a few items jumped out. My first response being wholly-hell that dude can crack. My second observations was the color of his face, hot-pink, after not even a full round of action. It stuck in my head the fact that mediocre opposition could land so many punches in such a short period of time.
His rawness makes sense with just one look at his amateur record. Gassiev doesn't have the deep pedigree like most of his fellow countrymen and Eastern European wave overall. However, that lackluster round before Gassiev's vicious finish of Jordan Shimmell didn't do justice for how good of a fighter he really was. Shades of responsible game plan began to sprout as did a solid jab in Gassiev's next two bouts versus Denis Lebedev and Krzystzof Wkodararczyk. Murat showed to be a calculated- killer rather than the mediocre previous version. It was a case of Gassiev not needing to respect Shimmell's power. 
It won't take long for this semifinal of the WBSS to heat up. Look for the jab and overhand right of Gassiev's to rule early. Dorticos will then make an adjustment and calculate what's coming his way. At that point say 3/4 rounds in, Yunier will land hard shots to even the fight. It's anybody's second-half, based off two dangerous punchers and the chin factor. Neither of these combatants have faced this much power so it's difficult to just assume they'll hold up. One could make the argument favoring Gassiev's experience as far as championship rounds. But with only a few outings against contender level guys it's hardly a truth sermon.
As this so-called scribe finishes this prediction article it still stands as a 50-50 flip of a coin. When the smoke clears after a good ole fashion tussle, Gassiev will look worse off. As we know looks can, and ultimately will be deceiving this Saturday. A swollen and bloody faced Gassiev will use his jab to contain Dorticos just enough to secure victory. The fact that this event is taking place in Sochi, Russia gives another advantage to the Russian native. 
My Official Prediction is Murat Gassiev by Split-Decision.
Side Note: Set you DVR on Friday for the return of Showtime's ShoBox: The New Generation and Top Rank's ESPN card on Saturday. The latter seems to be very weak but that's why they fight the fights. 
Written by Chris Carlson Host/Producer of The Rope A Dope RadioPodcast Available on Apple Podcast (ITunes), Player.FM, Stitcher, Tunein, Spreaker www.blogtalkradio.com /ropeadoperadio & TheGruelingTruth.Net. Sports Network! Follow on Twitter @RopeADopeRadio