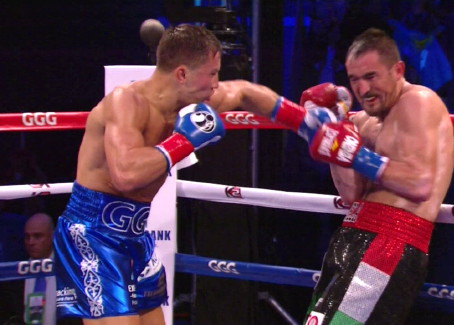 Every time Golovkin crosses the ropes to enter the boxing ring, fans pray for some longevity. Marco Antonio Rubio, according to many, was supposed to be that man, that fighter who would undoubtedly deliver that extra competitive edge. Rubio's extensive ring experience and aggressive style should have certainly been enough to give Golovkin something to work with. Instead, the fight ended just the way it always did: with Golovkin's victorious smile and his opponent trying to figure out what happened and how did it all happen so fast.
Rubio was on the receiving end of a brutal uppercut, alongside other loaded power shots. Nevertheless it looked like he simply did not want to get up off of the canvas within the 10-count. Did Rubio come to a conclusion that the punishment he is to be a target of in their fight was simply not worth it? Was Golovkin's power dictating an involuntary preservation of self response in Rubio?
Writing about and trying to decipher any fight that GGG has been involved in thus far is simply default repetition. He is a young powerhouse, with no intention of stopping his tirade anytime soon. As Roy Jones Jr. has put it after the fight, Golovkin is a Middleweight version of Mike Tyson. In essence, this means that it is ultimately irrelevant what the opponent did, and why they did it. Golovkin's power is clearly too much for everyone that has experienced it thus far. So what is the next step in his trek?
During the post fight interview with Max Kellerman, Golovkin mentioned Miguel Cotto. This would certainly be a very thrilling match-up, but unfortunately Cotto might be preoccupied with Canelo in the near future. This leaves GGG with only one logical choice, and this name was mentioned by both Max Kellerman and Jim Lampley after the fight: Andre Ward.
It was rumored that Ward's attorney Josh Dubin contacted Lampley and other HBO representatives, stating that Andre Ward is indeed interested and willing to fight Golovkin.
There is no doubt that this fight would not only sell seats, but would be a very interesting example of styles: the brawler vs. the strategist. How would Ward approach fighting a target that is always in front of him, yet is carrying knockout power in both hands. And what would Golovkin's camp come up with for facing a champion that has shown over and over that he can not only adapt to any style, but can outsmart his opponents on the go.
As Kellerman had suggested during the broadcast, Golovkin has plowed through all the competition that was put in front of him, but it is imperative to note that it was not top echelon rivalry. Both Cotto and Ward would be excellent exciting propositions, but there isn't a better test in Middleweight than Andre Ward.
Will we see Golovkin in California sometime early 2015 across the ring from Ward?
More @ https://www.facebook.com/VitaliFightPress