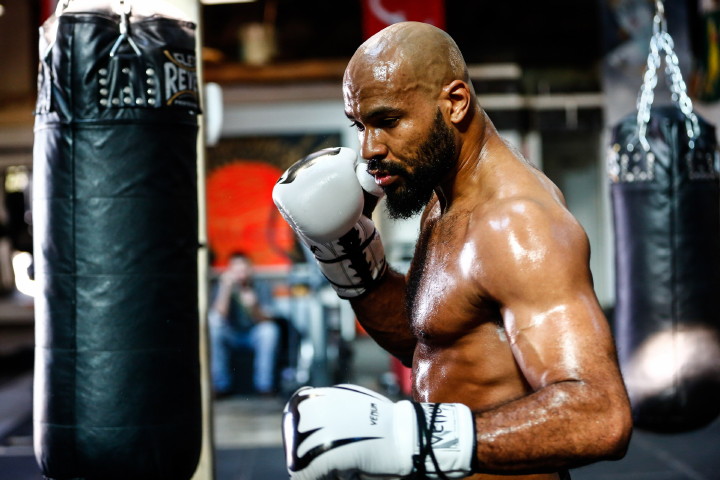 It seems just about every active heavyweight out there wants a piece of IBF champ Anthony Joshua. The unbeaten star has added a new buzz to the division and other fighters, young and old, want an opportunity to beat him in what would be a big event of a fight (with a substantial payday to go right along with it of course). Next up for A.J, in his maiden title defence, is unbeaten Dominic Breazeale, who gets his chance on June 25th.
One fighter who will be assisting "Trouble" as he gets ready for the biggest fight of his career, is another young (ish) and undefeated heavy, in Gerald Washington. Washington – who scored the biggest win of his career when he out-pointed the skilled Eddie Chambers last month – says his friend Breazeale is "no punk," and will give Joshua a hard fight. But if Breazeale doesn't pick up the victory, Washington says he will be the man to topple Joshua.
Speaking with Sky Sports, Washington, 17-0-1 (11), insisted Breazeale is not in any way intimidated by the prospect of facing Joshua.
"That press conference where they had the face-off, I watched that thing like ten times, it got my juices flowing," Washington said. "I know Dominic and he's not a punk, he's not scared. He will step up to the challenge, he is tough as nails. He can take a shot, he's got a good chin. He's going to come and bring it all night long."
As good and as tough as Washington says Breazeale is, Washington might not get the chance to beat Joshua, as his friend might do it first. Most experts disagree with Washington, however, and feel A.J will score a relatively quick and emphatic win on June 25th. After that, in October or November time, Joshua is expected to make a second voluntary defence – maybe this is where Washington will come in. Having signed that deal with Showtime, Joshua is likely to face US fighters as he builds his name and fan base in America.
Washington is already taking a great game:
"I look at him and I see a mega-fight between a guy like him and myself in the very near future, because you need someone that will be big and strong, someone as athletic as him, somebody that cane move," Washington said when attempting to add interest in a fight between he and A.J. "I've got all those attributes – plus I'm smart. You're not going to catch me reaching in, leaning over, doing anything that is going to put me out of position. I'm very calculated and it's going to be a terrific fight one day."
Maybe.
Washington came to pro boxing quite late at age 30, and he is now 34 and needs, in the opinion of most, further seasoning and experience against punchers if he's to have a shot at beating the best. Still, at 6'5," Washington is a big, strong guy and he did surprise a number of people with his win over "Fast" Eddie. A pro for less than four years, some fans felt Washington would be schooled by Chambers.
Who knows, one more biggish win might get Hearn and Joshua looking Washington's way. At the very least, Washington – and Breazeale – figures to give Joshua a tougher night's work than the last American to have fought the 2012 Olympic gold medal winner.