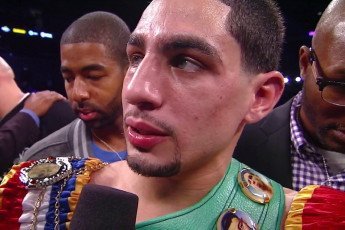 DANNY GARCIA has dismissed the chances of him being flattened by KO King Lucas Matthysse this weekend.
The cocky American risks his WBA Super and WBC World Light-Welterweight titles against the Argentinean who has knocked out 32 of his 34 victims at the MGM Grand Garden in Las Vegas on Saturday.
It's the chief support to the potential richest match in history between Floyd Mayweather and Saul 'Canelo' Alvarez and is televised live and exclusive in the UK on BoxNation (Sky Ch. 437/Virgin Ch. 546).
Garcia, 25, who has won all 26 professional contests is best known for beating Amir Khan 14 months ago in a big upset.
Right now Matthysse is the most feared hitter in boxing, despite split decision points defeats against Zab Judah in November 2010 and Devon Alexander seven months later.
He has scored six impressive inside the distance wins since then, and in May annihilated Lamont Peterson in three rounds.
But Garcia said: "To me Matthysse is just a regular fighter and I don't consider him one of the best.
"He doesn't even have a world title. Let's see what happens when I back him up, work angles. I can fight backing up. Can he?
"Matthysse has power but I have power, too. I fought a lot of guys with power. Trust me, I plan to take away his power, make him miss and make him pay.
"If Matthysse opens up early to try to get me out of there, trust me, he's making a big mistake. He tries that and the fight's going to be over quickly."
Mayweather-Alvarez might the talk of boxing, but plenty believe their battled might be blown away by the battle of the 140lb superstars.
Leonard Ellerbe CEO of Mayweather Promotions added: "You have Matthysse who is known as the most feared man in boxing and Danny's a great champion.
"It's going to come down to one guy trying to impose his will and the other guy doing what he does.
I think you're going to see a tremendous, tremendous fight.
"I think you'll be able to see Garcia be able to do things that many people hadn't seen him do before, and I think that you'll be able to see what happens when Danny backs Matthysse up."
Mayweather v Alvarez is live and exclusive on BoxNation (Sky Ch. 437/Virgin Ch. 546) this Saturday night. Join at www.boxnation.com
About BoxNation
BoxNation, the Channel of Champions and proud partner of Rainham Steel, is the UK's first dedicated subscription boxing channel. For £10* a month and no minimum term customers can enjoy great value live and exclusive fights, classic fight footage, magazine shows and interviews with current and former fighters.
BoxNation is proud to support Fight for Peace, a charity that uses boxing and martial arts combined with education and personal development to realise the potential of young people in communities that suffer from crime and violence. Buy LUTA (www.luta.co.uk) clothing and support Fight for Peace.
Previous highlights have included Khan vs Diaz, Mayweather vs Guerrero and Haye vs Chisora.
The channel is available on Sky (ch 437), Virgin (ch 546), online at Livesport.tv and via iPhone, iPad or Android.
BoxNation is also available to commercial premises (inc. pubs, clubs and casino's) in the UK and Ireland, for more information on a commercial subscription please call 0844 842 7700
For more information visit www.boxnation.com
*Plus £10 one off registration fee for Sky TV and new Livesport.tv customers.