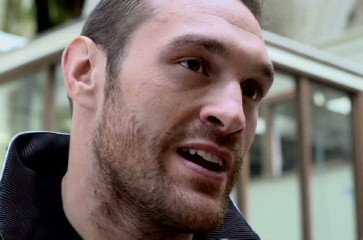 Heavyweight destroyer Tyson Fury says that he could knock out Dereck Chisora and his sparring partner Mariusz Wach on the same night.
The Manchester giant was enraged after Polish star Wach, Chisora's chief sparring partner, said yesterday that the Finchley banger could knock out Fury early when they clash at the Phones 4 U Arena on Saturday 26th July.
Chisora and Fury collide in the biggest domestic heavyweight rematch in recent years with the winner securing the WBO number one spot to world champion Wladimir Klitschko, plus the Vacant British title and Chisora's European title are on the line.
Big-hitting and hard-talking Fury has fired back at Wach and said that Team Fury heavyweight Eddie Chambers is also ready and prepared to take him on.
"Frankly it's laughable that Wach seriously believes that Chisora could knock me out. I don't know if Wach is hitting the Polish vodka a bit heavy, but to come out with a statement like that, he must be drunk!" Said Fury.
"Let's get real, Chisora couldn't get near me in the first fight so what makes anyone think he's going to knock me out this time around. So he's had a few wins since we met, big deal, knocking out eastern European cab drivers does not suddenly make him super-human or a knock-out king,"
"As for Wach, he got his arse well and truly kicked from pillar to post by Wladimir Klitschko and hasn't fought since so how he can have the audacity to even judge me, I don't know. Watch the difference between me against Klitschko, when and if he ever grows a set and fights me, and the fight between Wach and Klitschko and there'll be no comparison,"
"I do hope that Chisora is listening to this garbage from Wach because he'll start believing it and when we meet I'll destroy him,"
"In my opinion they are made for each other, two bums. I'll gladly line them up one after the other in Manchester. Chisora first, he'll get knocked spark out and then I'd do Wach straight after him."
Fury added that if Wach wants a proper fight while he's over here then he should fight his stable-mate and former world title challenger, Eddie Chambers, who features on the undercard.
"Eddie is there ready and waiting for him if he wants it," said Fury.
"I don't have any hesitation in saying that Eddie would deal with Wach and he fancies the job big time,"
"So if Wach is shooting his mouth off saying I'll get done early, lets see how he gets on with Eddie."
Tickets are available through Eventim on 0844 249 1000 or eventim.co.uk
Fury v Chisora is live and exclusive on BoxNation (Sky Ch. 437/HD 490 and Virgin Ch. 546). Join at www.boxnation.com