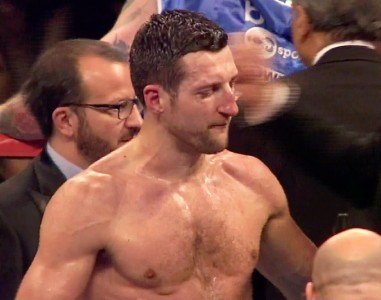 The Mirror has reported that WBA/IBF super-middleweight champion Carl Froch will be forced to vacate his IBF strap today as he has failed to set up a fight with the mandatory challenger in James DeGale. This did not seem to be the case of Froch being afraid to fight DeGale, on the contrary he has been looking to find himself a farewell fight in Vegas against Julio Cesar Chavez Jr, nevertheless this title will be up for grabs in the coming months and as DeGale is the first in line he will be fighting for it. The number two ranked fighter by the IBF is American Andre Dirrell, brother of WBC champ Anthony Dirrell. This is an exiting proposition as we could have brothers both as title holders in the same weight class.
Whether or not that fight gets made is a different story and with the recent news of the Mikkel Kesslers retirement other options have to be considered and a bout with his rival George Groves could be on the cards. This is the kind of grudge match that the British public would love to see, but after Groves' back to back losses to Froch how credible of a contender is he?
Groves won their first outing by points in 2011, but since then he has looked progressively worse and DeGale seems to be improving with every fight. Another interesting point to note would be that Groves is also the WBC mandatory, the same title held by Anthony Dirrell. This means that before the end of the year we could have James DeGale vs George groves 2 for the unified WBC and IBF super-middleweight championship of the world. This would be one of the biggest fights of the year for UK sports fans and would mark a dominant champion in this division.
However the Dirrell brothers are no easy task for the British fighters and we could just as easily see DeGale and Groves drop off the map if they take bad losses.
Whatever the case the super-middleweight division is one to watch in 2015 with other big fights such as Julio Cesar Chavez Jr vs Andrzej Fonfara and Arthur Abraham vs Paul Smith 2 also upcoming.