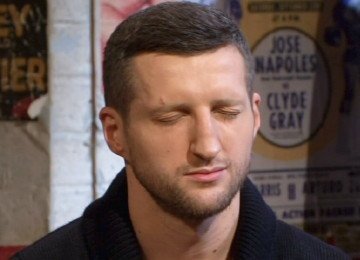 Retired former super middleweight world champion Carl Froch, has ruled out a comeback fight with middleweight wrecking-ball Gennady Golovkin, hopefully ending speculation once and for all as to whether he will return to the ring for one last hurrah next year.
Froch has consistently toyed with the idea of fighting Golovkin, both before and after his official retirement from boxing earlier this year, posting his now infamous 'Too Big and Strong for GGG' social media status just before he announced that his '80k at Wembley' rematch with George Groves in May 2014 had indeed been his final fight.
Since that time, the 38 year old Froch has taken up an analysts position with Sky Sports in the UK, though is continually fielding questions about a potential return with a cryptic uncertainty, dangling a metaphorical carrot to his many loyal fans keen to see a return, and thus, keeping his name firmly in the spotlight – which one suspects is/has been his primary motivation all along, given his notorious ego.
The latest speculation about a return came at last weekend's Klitschko/Fury fight in Germany, whereby Froch met Golovkin manager, Tom Loeffler for the first time and again speculated on camera about a return fight with the Kazakh, though then immediately insisted he could no longer make super-middleweight, where any fight would have taken place – and which is still a big jump for GGG.
"When [Loeffler] took one look at me, shook my hand and looked up at me, I think he thought, 'Blimey, I didn't think he was that big!," Froch said to Sky Sports. "Look at those pictures with Golovkin and Amir Khan that night [on Twitter]; they are about the same size – and I am massive compared to them both.
"Golovkin hasn't fought anyone near my size. The last guy [David] Lemieux was probably his biggest but is he going to jump in with someone as big as me, who is proven at world level, and is bigger and stronger?
"Unfortunately for the fans I am retired, I am happily retired and I am staying retired," he added.
Twitter @undilutedpoison