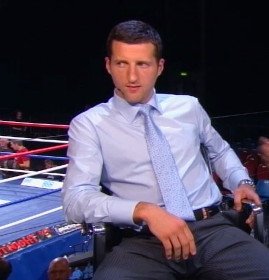 By Michael Collins: IBF super middleweight champion Carl Froch (30-2, 22 KO's) sees his possible rematch with WBA super middleweight champion Mikkel Kesser (46-2, 35 KO's) as being a huge fight in the UK, bigger than anything that's taken place there in the past decade. It's kind of hard to believe because there have been so many important fights that have taken place there during the last 10 years that would seem like much bigger fights than Froch-Kessler 2.
Froch said to thisisnottingham.co.uk "Everything is in place for what will be the biggest fight in Britain for the last ten years. It is the fight everybody wants."
I think Froch is maybe overestimating the interest in the Kessler fight. Sure, it's a decent fight but Kessler hasn't exactly been fighting on a regular basis for the past two years, and he's not been busy enough to make this a really huge fight.
It's a good fight in terms of UK and Denmark interest, but I don't see this as being a really huge fight in the UK along the lines of an Amir Khan, Ricky Hatton, David Haye or Joe Calzaghe fight. To me, I think all of those guys have been bigger draws than Froch in the past 10 years, and even with him fighting Kessler again, I don't see Froch out-drawing the interest that those guys have had.
Froch really should wait before he starts spouting off about how well his rematch with Kessler will do because Kessler hasn't even agreed to the negotiation terms as of yet and he may not. There's a good chance that the money that Eddie Hearn, Froch's promoter, has offered him won't be enough. I'm sure there are other things that Kessler might not like as well, such as fighting in the UK for instance.
Agreeing to fight in the UK could be a situation where Kessler might be in the position where he'll a knockout to guarantee that he wins the fight because the last time one of Froch's fights went to a decision in the UK, he won a controversial decision over Andre Dirrell. I know Froch has been saying that Kessler needs to pay him back by agreeing to fight in the UK because of their previous fight taking place in Denmark, but still it's a risky thing for Kessler to agree to fight Froch in the UK due to the possibility of foul decision. Kessler and his promoters should think hard about whether it's worth it or not to fight Froch in the UK because the last thing they want to do is regret their decision afterwards if Kessler loses a fight that he should have won.