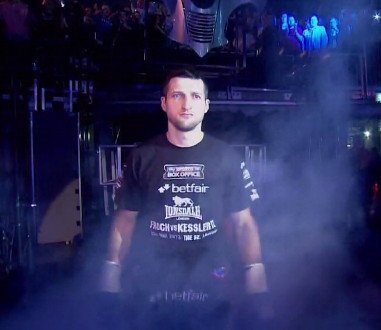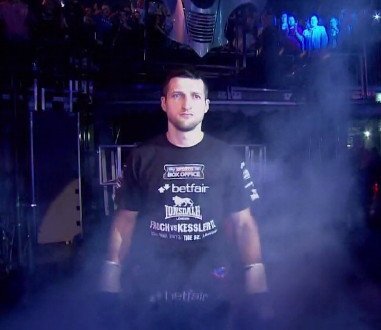 IBF/WBA super middleweight champion Carl Froch (31-2, 22 KO's) will be defending his titles against unbeaten George Groves (19-0, 15 KO's) on November 23rd in a 50-50 fight at the Phones 4u Arena (formerly M.E.N Arena), in Manchester, United Kingdom. This is really one of those fights that is very difficult to predict the outcome mainly because Froch was so poor looking in his recent win over Mikkel Kessler last May.
If you saw that fight you'll have noticed that Froch is incredibly slow now, and very clumsy-looking. Kessler could have won that fight and probably should have except that he didn't start fighting until the 5th round.
Groves isn't dumb enough to give away half the fight like Kessler did, so he's going to give Froch all kinds of problems.
Froch will tell you that Groves hasn't earned this fight by taking on the best fighters in the division, and he's probably right. But the fact is it's not going to make much difference in the outcome of this fight. If Groves has the talent to win, he's going to beat Froch. We already know that the 25-year-old Groves is much younger than the 36-year-old Froch, and that's going to weigh heavily in Groves' favor, because Froch is starting to show the negative effects of aging.
When you get an old lion like Froch facing a young lion like Groves, it doesn't matter if the young lion isn't the greatest fighter. All he has to do is use his speed, energy and movement, and he'll beat Froch. That's kind of what I'm expecting in this fight. Froch is going to be too slow for Groves, and he's going to get to get worked over by him. We may even see a stoppage at some point.
Froch has done a good job or turning his career back around after his loss to Andre Ward in the Super Six tournament in December 2011. Froch has reeled off three consecutive wins over Lucian Bute, Yusaf Mack and Kessler. However, I rate Groves as being better than those guys right now based on his youth, power, size, and speed. He's a lot more solid than those fighters were at the time they fought Froch. I think a prime Kessler and Bute would give Groves nightmares, but the fact is neither Bute nor Kessler were in their prime when they recently fought Froch.
Groves has some nice wins over James DeGale, Noe Gonzalez Alcoba, Glen Johnson, Francisco Sierra, Paul Smith and Kenny Anderson. Those fights have gotten Groves ready for what he's going to be facing against Froch. Groves also was able to spar Kessler in getting him ready for the Froch rematch, so that's also helped Groves.
Froch has good power, but Groves is a better puncher with more speed. I see this as being the problem for Froch in this fight. He's going to be getting hit a lot by Groves, and I don't think he's going to be able to hold up under the punishment that he's forced to absorb by the younger fighter.