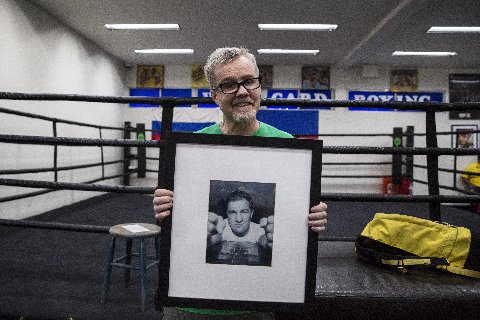 Photo by Ben Lowy – After hearing how late Mayweather was for his own media workout, the seven-time Trainer of the Year offered his own audit of Manny's next opponent.
"I am so glad that Mayweather is big on Shots [the social network app. Mayweather uses] because he is going to be taking a lot of them from Manny on May 2," said Roach, one of the many bon mots he served on Tuesday after Manny's training session which included 12 rounds of sparring. "That is why he has been avoiding Manny for so long. He didn't want this fight. He can pretend it was a strategy to build up the fight's value but that's not true. For once Mayweather wasn't able to handpick his opponent. He was forced to take this fight — by Manny, the media and the fans.
"His excuses for not making the fight haven't held water for years and Manny finally exposed him. Mayweather ran out of road. Mayweather may have been the 'A Side' during the negotiations, but once he signed the contract he became the 'B Side' just like he did when he fought Oscar De La Hoya, Ricky Hatton, Miguel Cotto and Canelo Alvarez. That is why he prolonged announcing the fight for as long as he did. He wanted all the attention.
"Mayweather is a different 'A Side' now and you can guess what the 'A' stands for. He was late for his media workout leaving major media outlets scheduled to go live with dead air. How selfish is that? It doesn't take a lot to figure out why everyone is rooting for Manny. Just look at which fighter has the most endorsements going into this fight and why. When Manny beats Mayweather it won't only be about unifying the welterweight titles, it will also be a public service to boxing.
"Mayweather may be two victories shy of tying Rocky Marciano's record [49-0] but I can assure you Mayweather's party will end on May 2 and Marciano's record will remain just that – the record. And Mayweather will forever be known as Mr. 47 and 1."
Promoted by Mayweather Promotions and Top Rank Inc., the Mayweather-Pacquiao live pay-per-view telecast will be co-produced and co-distributed by HBO Pay-Per-View® and SHOWTIME PPV® beginning at 9:00 p.m. ET/ 6:00 p.m. PT
###
Freddie Roach Blog – Mayweather vs. Pacquiao
In what ways has Floyd Mayweather Jr. declined in recent years?
"Floyd's legs are betraying him. You can see that in his recent fights. He has never wanted to engage because that is not his style. But recently he has been forced to because he no longer can be on his toes for a full three minutes per round. He takes rests on the ropes and fights flatfooted more often. He is 38, and you can only put off Father Time for so long.
"Floyd is still an incredible athlete but he is not the same fighter he used to be and he knows that. He says he wants to give the fans more action by engaging more but he is trying to cover up the real reason his fighting style has changed — his legs are beginning to betray him.
And trust me, that is in his head and so is the fact that Manny's legs are still in their prime. It's a big disadvantage – mentally and physically – to give that up to an opponent before you meet in the ring. Floyd can run all he wants in training camp. It's not going to help.
"A big deal has been made about Manny not having a knockout since 2009. But Floyd has only had one KO victory in the same period – against a guy whose arms were at his side.
"I guarantee you Floyd lays awake at night knowing his boxing day of reckoning is fast approaching. Knowing that on May 2 he will be 47-1."
Mayweather vs. Pacquiao takes place Saturday, May 2 from the MGM Grand in Las Vegas live on pay-per-view beginning at 9:00 p.m. ET/6:00 p.m. PT.