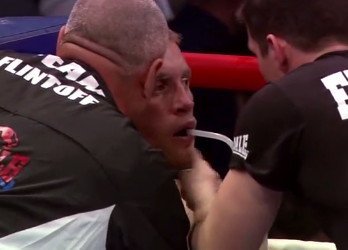 by Phil Marshall: No doubt where Flintoff the cricketer would be – in the pub for some time. But exactly what he does next will tell us a lot. If it's the pub he's in trouble with his boxing. He's no Ricky Hatton who in his prime could handle binge drinking and boxing.
If instead this is a new Freddie with a different mindset, and everything about his training says it is, let's just go with him for the ride.
First, let's get the negatives out of the way. He was like a booth fighter at the fair many years ago. Except he was the punter up from the audience who fancied his chance. Swinging away while the pro let him have a go. The right hand that first impressed McGuigan needs work. Then more work, Roundhouse, sloppy, nowhere near dangerous enough. But he got in a couple of left jabs that raised hopes especially when he followed up with the right.
The knockdown was worrying but also a reality check that could work for him. Freddie's fitness is good considering he's only been in serious training for a short time. Dawson's was just this side of a disgrace. He looked like he had just come for the cheque, and a beer or two. Looking at it long term Dawson probably was a shrewd choice. He gave Flintoff vital ring time, made him think and was just enough of a threat. Of course right now the rumors are flying. Why didn't he follow up after the knockdown, was the fix in? We'll never know so what's the point of worrying?
The real point is that Flintoff did not disgrace himself and he showed enough for an open minded fan to think he might have a chance.
The name of Audley Harrison has jumped into the picture for a few reasons. He was an example of how far you can take a pro career when you choose opponents more carefully than a bomb defusion expert chooses which wire to cut. But Audley did have delusions, talking about world titles and a legacy. It's fairly certain Freddie does not and if he does, Barry McGuigan will have a quiet word.
No, on last night's showing Freddie can hope to go a bit further and he should try, knowing that each fight could be his last. It would seem strange to have come this far, do a few hard yards – then give up after you have won! Freddie may be eccentric, others say bonkers, but nobody would dispute that he is a trier.
Seeing the wild enthusiasm in the arena and the media interest it's tempting to think back to the Blonde Bombshell himself, good old Billy Walker. No! Let me say instantly I'm not saying Freddie is as good as Billy, or ever will be – but he does have that crowd appeal. Billy had a good career and a dedicated following. Maybe Freddie could do something similar, on a smaller scale – and in the north.
British Boxing needs a hero. It's Not David Haye, not Audley, could be Tyson Fury. You will say Freddie needs a miracle but do miracles happen, in sport?
Sometimes . . . especially when there's money to be made.