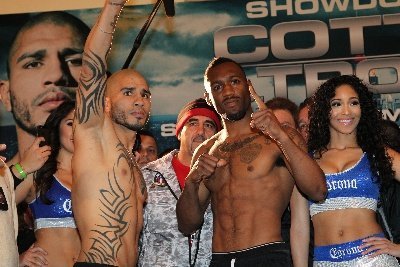 By Joseph Herron, photo: Tom Casino / Showtime: Tonight from Madison Square Garden in New York City, three division world champion Miguel Angel Cotto (37-3, 30 KOs) will challenge undefeated Austin "No Doubt" Trout (25-0, 14 KOs) for his WBA Junior Middleweight Championship.
While the big event is nothing new to a proven fight veteran like the Puerto Rican favorite, the highly anticipated match-up will be Trout's first trip to the big dance.
Expert trainer James Gogue, of "The Pugilist KOrner's: Weekend Wrap", analyzes this terrific pairing, which is slated to air on Showtime Championship Boxing at 9PM EST/PST.
"First of all, every time Miguel Cotto fights at the Garden it always turns into a huge event," states the 29 year veteran fight trainer. "Cotto is a legitimate star in boxing and his bouts aren't just fights to his fans…they're big time events."
"I had the privilege of featuring one of my fighters on the undercard of the Cotto/Clottey bout in 2009, and over 22 thousand screaming Puerto Rican fans showed up to support their favorite fighter. It was a very festive atmosphere, but it can create a lot of problems for any young fighter if they're not fully prepared to handle the pressures of performing on that level."
Although it's easy to notice the disparity in big fight experience between tonight's competing fighters, the talented fight trainer does recognize the fight attributes of the current WBA Junior Middleweight Champ.
"Austin is a tremendous athlete and a very talented counterpuncher. He has fast hands and very good footwork. He also possesses a very high ring IQ and has shown championship level patience and poise in the squared circle. There's a reason why he's here. No one can question his ability to fight. But can he remain fighting at this level? That's the question on everyone's mind."
"No Doubt is a very crafty fighter who likes to capitalize on his opponent's mistakes. He likes to play the role of matador and punish his adversaries after he makes them miss. He's very difficult to hit cleanly and is a very smart defensive fighter."
"He likes to work off of an effective touch jab to set up the straight left hand. He also likes to follow the left hand with a hard right hook. He can also launch the left uppercut from different angles and is a very accurate puncher."
"But his strongest asset is his footwork. It is the foundation for his defense and offense. He likes to pivot around his opponents and fight them at certain angles that make it difficult for his opponents to return fire. He's a very smart fighter and there's a reason why he's never experienced serious adversity throughout his entire career. He has the ability to frustrate his opponents into taking foolish risks in the ring. When they get frustrated and attempt to land something while out of position, he makes them pay with clean, effective counters."
While the strategic expert acknowledges the strengths of the defending Junior Middleweight title holder, James Gogue isn't convinced that skills alone will be enough to earn a big victory over one of the biggest stars in boxing.
"Although Trout is the incumbent champion, he's coming into the fight as the B-side fighter. Cotto and Golden Boy didn't bring him to the 'Big Apple' to win; especially when they've circled May 4th as a potential fight date for a Canelo/Cotto showdown in 2013."
"Trout can't just cruise to an easy decision in this bout like he did against Delvin Rodriguez earlier this year. He's going to have to work 40 to 50% harder than he's used to in order to earn a victory at the Garden. He cannot be tentative in this fight and wait for the openings to appear."
"He has to be more assertive in this bout to retain his title. He has to create more openings than he has in the past. As soon as Austin throws a counter, he must come right back with a combination. He has to dazzle the judges at ringside and not give them any reason to score the rounds for Cotto."
"Austin has to establish the idea that he is in complete control of the contest in the minds of the judges, because it's going to be in front of a very loud Cotto crowd who will cheer every time Miguel lets his hands go. Even if he swings and misses, the Puerto Rican fans in attendance will go nuts."
"If the fight is close, Austin Trout will not leave the Garden with his title."
While tonight's main event will serve as the biggest fight in Austin Trout's young career, four time champion Miguel Cotto has fought the biggest names in the sport and has been victorious in all but three outings.
It would be somewhat of an understatement to say that the 27 year old champion will have to be at his best to retain his WBA title.
"The Garden is Cotto's playground…this is home for Junito. He's never lost at Madison Square Garden. Trying to defeat Cotto in the Garden is like attempting to beat Notre Dame at South Bend, Indiana, or trying to knock-off the Crimson Tide in Tuscaloosa, Alabama. It's very hard for anyone to get the win in his adopted hometown of NYC."
"Although Trout has stated that he's used to fighting in his opponent's backyard, and that he won his title by defeating Rigoberto Alvarez in Mexico, Miguel Cotto is unlike any fighter he's ever faced to date. He's not a mid-level opponent like Rigoberto Alvarez."
"Miguel is a complete fighter and is a proven winner. He can cut off the ring extremely well and can box proficiently when he has to. He has shown many different wrinkles to his fight game over the years and has become a very versatile fighter in the ring. His ability to adapt and overcome adversity in the ring is amazing."
"Cotto likes to work behind his jab, which is a punishing shot. His jab is like some fighters' straight right hands. Perhaps it's because he's a converted southpaw who fights in an orthodox stance, but all of Cotto's power resides in his left hand. He throws very well in combination and can really neutralize his opponent's power early by digging to the body effectively."
"Some would say that Cotto's best weapon is his left hook to the body and head, but it's definitely his iron resolve and his physical durability. Trout's toughest task in the ring will be to try and dissuade Cotto from imposing his will. Miguel is one of the most confident fighters in boxing and always remains calm during each and every bout. He doesn't get discouraged easily, even when faced with very adverse conditions."
Despite being the noticeable underdog coming into tonight's main event, James Gogue is expecting a very competitive bout.
"Cotto is the consummate professional in the ring and always puts forth a machine like effort. It's going to be very difficult for Austin to win this fight. On paper, the style match-up couldn't be any worse for Cotto. Trout has the advantage in just about every category except for power and experience."
"But the intangibles that can't be measured before a big fight of this nature are always the most important, and Cotto possesses everything that a true champion needs in order to be victorious."
"I'm expecting a very competitive fight that could really go either way. We'll definitely answer a lot of questions surrounding both fighters going into this great match-up. Is Austin Trout ready for the big time? Does Cotto still have what it takes to compete at the highest level?"
"Can't wait to see how this one turns out!!"