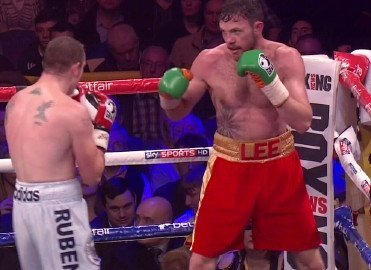 After a string of bad luck surrounding Andy Lee's WBO 160 lb title defence against mandatory challenger Billy Joe Saunders – including two separate postponements – veteran British promoter Frank Warren has spoken out to insist that, all being well, the fight WILL happen before the end of this year.
Many theories abounded as to why the fight moved from the original September date and venue – Thomond Park in Limerick – although the official line is as a result of a virus suffered by the champion, meaning the fight was then set to top the bumper October 10 'World War 3' card from Manchester, that also includes WBO lightweight champ, Terry Flanagan and Liverpool's Liam Smith in separate world title bouts.
Sadly for all concerned, Saunders then received a cut in sparring that has ruled him out of the new date, leaving the promoter [along with co-promoter, Adam Booth] with 3000 unusable pre-printed fight posters and one big headache, but alas, as Warren himself says – "These things unfortunately happen in boxing."
Fans desperate to see the historic and hugely anticipated match between the two travelling men – as well as the fighters themselves – have no choice but to wait it out a little longer.
"That [fight] will [probably] go on early December, It will go on by the end of the year. Obviously we can't get the exact date until this week, the doctor's going to have a look at Bill again and he'll give us his opinion," Warren said recently to iFLtv.
"He [Saunders] probably can't do any sparring for the next eight weeks, so that will take us through to end of October-ish, and he can get himself back in the game again. There's nothing stopping him doing everything else, it's just that he can't do any sparring.
"As long as he keeps himself well and in condition then we can get it rescheduled for December. We've worked very hard for this fight……….and we will get it on before the end of the year."
"It's [WW3] still going to be a great show and we've got some good fights on the undercard," he added. "There's some good 50/50 fights on there."
"World War 3" featuring Flanagan/Magdaleno and Smith/Thompson, from Manchester's MEN Arena will be live on Boxnation on October 10th.
Twitter @Undilutedpoison