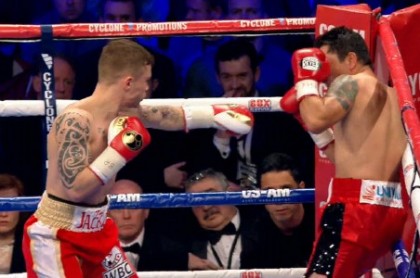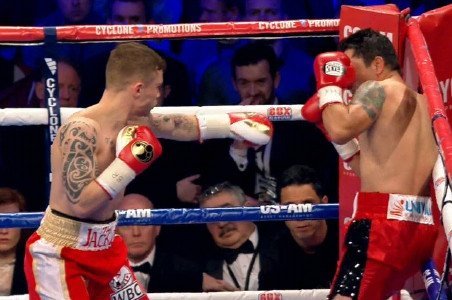 Following Carl Frampton's 2nd round TKO win over Hugo Cazares (40-8-2, 27 KO's) last Friday night in their WBC 122lb eliminator bout, Gary Hyde, the manager for WBA/WBO super bantamweight champion Guillermo Rigondeaux, took the opportunity to give unbeaten contender Frampton (18-0, 13 KO's) an offer to fight for Rigondeaux's two titles next. He even offered to bring the Cuban star over to Belfast, Northern Ireland to face Frampton in his own neck of the woods in front of his own Irish fans.
As good as that fight would be, Frampton said he's not interested in it at the present time. He wants to fight WBC super bantamweight champion Leo Santa Cruz next, and he wants that fight to take place in Belfast.
"I want to deal with Santa Cruz, then we can start looking at guys like Rigondeaux," Frampton said to IFL TV. "If you want to get to the top, Rigondeaux is the guy you have to beat."
Is Frampton ducking the fight against Rigondeaux for a safer fight against Santa Cruz?
Whether Frampton will ever face Rigondeaux or not in the future is unclear. If Santa Cruz destroys Frampton, then there won't be any point at all in discussing the subject, because Frampton will have been weeded out. But if Frampton does beat Santa Cruz, then there's going to be pressure on him to take the fight before Rigondeaux ages out.
The 27-year-old Frampton is young enough to wait out the 33-year-old Rigondeaux until he gets old and slow enough for him to beat him. Frampton could then face him and get a victory over him, and add his scalp to his resume with many boxing fans believing that Frampton would have done the same thing to Rigondeaux even if he were in his prime instep of his mid to late 30s.
"Congrats to Frampton," Hyde said on his twitter. "Now why go to USA to fight Santa Cruz when we will bring Rigo 'El Chacal' to Belfast? Let's do it. Forget crossing the Atlantic to face Santa Cruz. Let's do it in Belfast. El Chacal vs. The Jackal. Belfast and put both his world titles on the line against Carl. Carl is without doubt one of the top 122lb fighters in the world and very worthy of a crack at both of Rigo's titles."