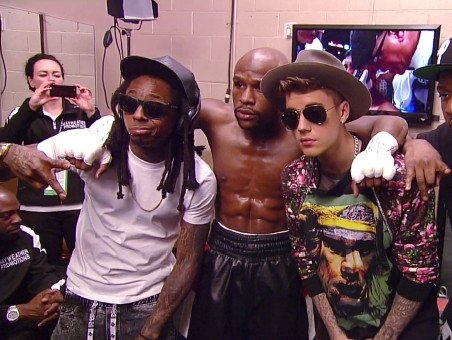 In his recent win over Marcos Maidana on May 3rd, Floyd Mayweather Jr. looked about as bad as he's looked since his two life and death struggles against Jose Luis Castillo in 2002. Mayweather, for the first time in his career, looked his age, and didn't seem to be the same guy that had dominated Robert Guerrero and Saul "Canelo" Alvarez recently.
That's why it came across as kind of strange that Floyd Mayweather Sr. is still talking about how easily Floyd Jr. would beat Manny Pacquiao if that fight were to happen. It's pretty much clear that Mayweather will never agree to fight the Filipino star for whatever reason. But it's strange to see Floyd Sr. talking boldly about how Mayweather would dominate Pacquiao when he couldn't even beat Maidana convincingly.
"That's an easy fight," Floyd Sr. said about a hypothetical Mayweather vs. Pacquiao fight. "That's nothing, man. I'm telling you. You may not believe it, but that's an easy a** fight. He's [Pacquiao] not technical enough…I'm telling you right now, Pacquiao would get his a** tore up."
After seeing Mayweather Jr. taken to the edge by Maidana, I think it's pretty much self-evident that Pacquiao would beat Mayweather with pressure and a high punch volume. Mayweather always had problems against fighters that threw a lot of punches, but now it's pretty clear that he can longer deal with those types of fighters. If a B level fighter like Maidana was able to give Mayweather huge problems and almost beat him, then it seems only obvious that Pacquiao would beat him if that fight were to be made.
Mayweather is probably doing the right thing by choosing not to fight Pacquiao because if that fight were to be made at this point in his career, he'd likely lose and lose badly to the Filipino star. Maidana created the blue print in how to beat Mayweather, and Pacquiao, with help from his trainer Freddie Roach, would follow that blueprint to the letter to give Mayweather his first loss.