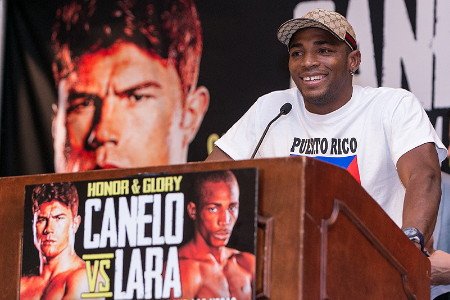 (Photo credit: Hogan Photos) Former WBA/WBC junior middleweight champion Saul "Canelo" Alvarez (43-1-1, 31 KO's) will be able to take advantage of WBA junior middleweight champion Erislandy Lara (19-1-2, 12 KO's) each time he corners him in their catch weight fight on July 12th at the MGM Grand in Las Vegas, Nevada. Canelo, 23, watched Lara's recent fight against Alfredo Angulo and noticed that Lara mostly would just cover up each time that Angulo cornered him against the ropes.
Canelo thinks he can take full advantage of that if Lara makes that same mistake against him in their Showtime televised pay-per-view fight on 7/12.
"Well, he [Lara] defends very well with his legs, but when you have him cornered all he does is cover up with his hands," Canelo said. "So we can fight a very smart fight, because he is a great counter puncher, but with great prepation we will be ready. I learned a lot from that fight [against Floyd Mayweather Jr]. He is a very fast fighter, very hard to find…You learn from every fight. I have fought every style and I will be ready for his style."
Lara isn't quite as fast as Mayweather, but he's close enough to give Canelo a lot of problems in this fight. Canelo is right about Lara mainly covering up when he's trapped against the ropes. For some reason he doesn't spin off the ropes the way he needs to, and that sometimes gets him in trouble. Angulo was able to land his best body shots when he had Lara against the ropes and covering up.
If Canelo is able to catch him against the ropes then there's a good chance he'll be able to stop him with a body shot. Canelo will unload on Lara with vicious body shots if he merely stands there covering up instead of trying to get away or hold.
In the center of the ring, Lara is going to have a huge advantage over the slower, more flat-footed Canelo in this fight. If Lara can keep the action there at all times, Canelo will be in for a long night and another embarrassing loss.