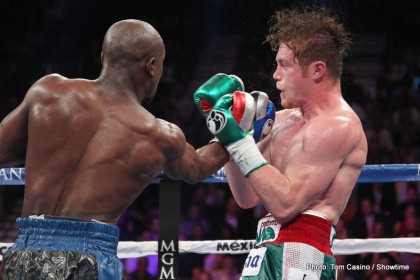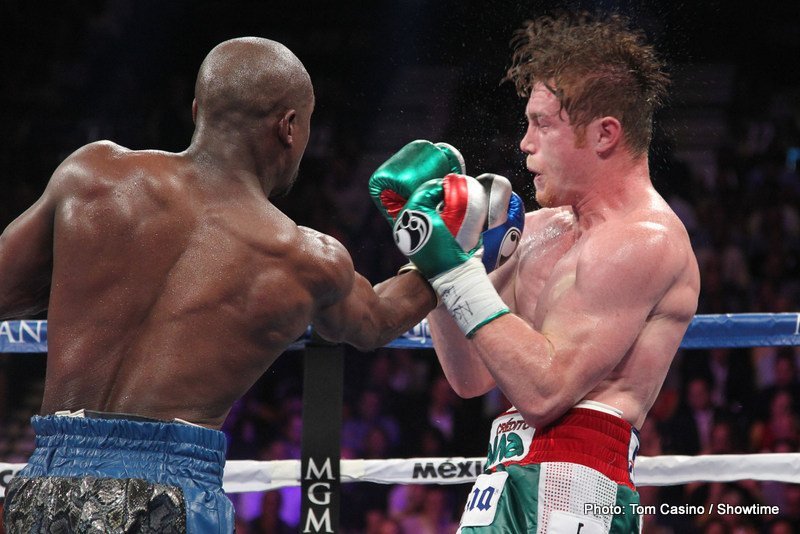 LAS VEGAS, NEV. (Sept. 14, 2013) – The undisputed, pound-for-pound champion put on a clinic against Mexican sensation Canelo Alvarez, handing the 23-year-old superstar his first loss in the toughest test of his career Saturday on SHOWTIME PPV at the MGM Grand Garden Arena.
Canelo (42-1-1, 30 KO's) fought with everything he had, but couldn't solve the puzzle of Floyd Mayweather. Mayweather showcased his signature speed and elusiveness in front of a largely pro-Canelo crowd of 16,746 fans en route to a majority decision (114-114, 116-112, 117-111).
For the night's work, Mayweather collected a guaranteed $41.5 million and Canelo's WBC, WBA and Ring Magazine Super Welterweight Championships.
"It's all about skills," Mayweather said. "I came out tonight and showed my skills. But a true champion like Canelo can take a loss and bounce back.
"My dad had a brilliant game plan. I executed that game plan. I could have pressed it and got the late stoppage, but tonight experience played a major key. Tonight was just my night."
After the fight, a seemingly frustrated Canelo admitted that Mayweather's skills and style of fighting were too much to overcome.
"He's very elusive, he's a great fighter and that's why I couldn't catch him," Canelo said. "I didn't know how to get him. It's as simple as that. He's very elusive. He's a great fighter.
"The frustration was getting in there. But simply he's a great fighter. I didn't want to lose. I didn't want to leave here with a loss. But it happens and it hurts."
After calling Mayweather's dominating performance SHOWTIME PPV play-by-play announcer Al Bernstein had an insightful observation about young superstar, "Canelo may be the fighter of tomorrow, but he's not quite yet the fighter of today."
The Mayweather-Canelo and Garcia-Matthysse bouts will air in the delayed broadcast on Saturday, Sept. 21 at 9 p.m. ET / PT (delayed on the West Coast).
Brian Kenny served as host of the SHOWTIME PPV telecast with Mauro Ranallo calling the action, Al Bernstein and Paulie Malignaggi serving as expert analysts with Jim Gray and Heidi Androl reporting. The telecast was produced by David Dinkins, Jr., with Bob Dunphy directing.
http://www.youtube.com/watch?v=WlNMPdL7AuU