Share the post "Final Press Conference: Matthysse-Garcia, Smith-Molina, Theophane-Cano"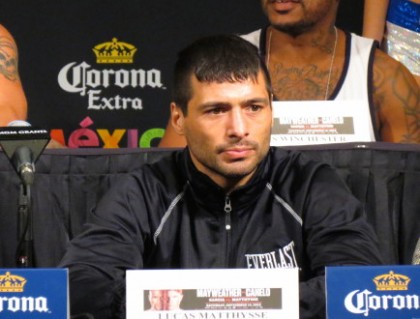 Mayweather and Alvarez are the headliners for this weekend. Naturally, the majority of the attention has been directed towards them. The One is such a stellar event is not just because of the headliner between the highest paid athlete in the world and the young Mexican star Canelo Alvarez. It's a stellar event because of the main even WITHIN the main event: Lucas "The Machine" Matthysse VS. Danny "Swift" Garcia.
The final press conference for the undercard fights took place on Thursday afternoon to pave way for the mouth-watering fight between Philadelphia's Danny Garcia and Argentina's Lucas Matthysse. The fight is a train wreck waiting to happen. The final words were said from both camps and the tone is set for Saturdays showdowns.
Fighting on the televised undercard is the Money Team's very own Ishe Smith looking at furthering career against the tough Carlos Molina. Opening up the PPV card is Mexico's Pablo Cesar Cano against Ashley Teophane.
Perhaps one of the things that media members were looking forward was a podium performance by Angel Garcia. Recent Garcia fights have shown that Angel Garcia is the one to get inside the opponent's head. We saw it in the Judah-Garcia press conference. When called to the podium, Angel let his guns loose. Surely this was the highlight of the press conference. No complaints from the media audience. This are the ingredients that will make the Garcia-Matthysse fight even better.
Will Team Garcia prove once again that Danny can back up Angel's trash talk and antics? Or…will Team Matthysse look to prove that soccer is not the only sport where Argentina shines?
Here are the highlights of the conference from Thursday. We only have a few more days until arguably the biggest boxing event in the history of the sport.
The official weigh-in for The One will occur on Friday inside the MGM Grand on Friday afternoon. The whole arena is set to be available for spectators.
STEPHEN ESPINOZA
"This is Christmas in September. There's no other way to look at this."
"Ths is not another undercard. Danny Garcia has headlined two Showtime cards. Lucas had headlined three Showtime cards."
"This is an event that has four main event fights."
ASHLEY THEOPHANE
"I'm fighting in Las Vegas. That means dreams do come true."
"The dream that I had as a kid, I'm finally realizing it. It proves that anyone who has a dream that wants to make it happen in life, you can do it."
BERNARD HOPKINS
"I've been involved in a lot of big fights, but this is huge. To see the undercard just as well be a main event anywhere in the world."
"Enjoy 'cause you never know when you might see, hopefully soon, great fights like these when they come around."
"Thanks for coming, thanks for showing that boxing Is still alive."
RICHARD SCHAEFER
"We have a new gate record: official number now is $20,300, 150.00. We broke the $20 million mark."
CARLOS MOLINA
"I'm ready. I just want to fight. I wish the fight was right now. I'm in top shape. I want to go out there and prove that I'm the best 154-pounder in the world."
PABLO CESAR CANO
"I don't like to talk much. I like to talk inside the ring. That's how I talk. I just want to tell you that Saturday is going to be a great function and that the winners are going to be the public and all of the Mexican fans. I'm going to put the name of Mexico on the board."
ISHE SMITH
"Over my life, I think it's been well documented the things that I've had to deal with. We all have differences. We all may not see eye to eye. "
"Pray for Oscar De La Hoya and hope he gets through this and comes back healthy."
"I'm not to talking trash. Maybe younger Ishe would be. The guy I'd like to call asshole. Kinda sabotaged his own career.
LUCAS MATTHYSSE
"I want to thank my team and team Garcia for making this great fight."
"I've prepared very well. Thanks to all for encouraging me. Thanks…we're here!"
ANGEL GARCIA
"Saturday night, everybody want to be Argentino! Valentino! Everybody want to bring their Argentine flag. But everybody forget where we live: U.S.A. Danny's a Latino fighter, but we represent U.S.A."
"When the U.S. government send you a check, you sign It , don't you? Then you be an Americanito! But at the same time, when one of the guys come from overseas, 32-nothing….'cause he ain't got nothing."
"He fought 32 guys he was supposed to knockout. Danny fought 26 guys he was supposed to lose to."
"Danny, he wasn't pampered. Danny wasn't pampered in this game. You know what I said? I want the best at 140."
"If he's here thinking he's going to hit Danny with a two-piece, he's in for a long night. He's in for a long, very long night. I don't train Danny like an opponent. I train Danny like a champion."
"Mike Dallas took that on a late notice. Not putting the man down. The man probably needed money. We don't know his life."
"He knocked out Dallas….oh! Superman is back. He knocked out Peterson….oh! Aquaman is back."
"If Zab would've been in shape the way I made him come in shape because of me and my big mouth, made Zab come back 100% in shape. I brought ten years out of Zab. If Zab would've come in on his A game against him, he would've destroyed him!"
"Vegas don't know nothing, YOU don't know nothing…I know everything. I know everything! His corner don't know shit! His fighter don't know shit! The manager don't know shit! I know everything! I know everything with God!"
"We still got the 0. And the 0 must not go!"
DANNY GARCIA
"Come Saturday night, I'm going to have another big performance. It's already my 5th title fight. I'm starting to feel like a young veteran, man."
"I'm a lot smarter now. I've had a lot of tough fights. I've been counted out a lot of times, but I always find a way to win. Come Saturday night, it's going to be another epic performance by me."
Share the post "Final Press Conference: Matthysse-Garcia, Smith-Molina, Theophane-Cano"