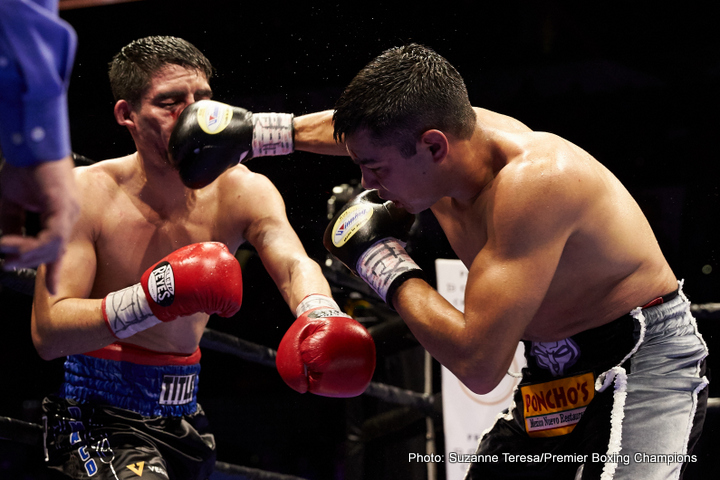 Omar Figueroa narrowly avoided an upset in his unanimous decision over Antonio Demarco in the main event of Premier Boxing Champions (PBC) on NBC live from the AT&T Center in San Antonio, Texas. Figueroa did what was expected. He swarmed all over Demarco with a never ending whirlwind of punches. His incredible punch count just about doubled that of Demarco.
But, the win cost him dearly. He was hurt several times in the fight, and even though Demarco's punch count didn't equal Figueroa's machine like output, he did throw the sharper more damaging shots. His punches come at a high rate, and from all angles. Demarco tried to block and slip, but about half of them got through. He was getting pasted and outworked. The numbers were piling up, but every so often, he would free himself up, and fire off his crisp hard shots. At those times, he managed to extricate himself from the ropes and give Figueroa a different slant on things and nail him with a bone rattling uppercut or hook.
Several of those instances had Figueroa reeling, but he wisely clinched or moved in close enough to smother any of Demarco's attempts to follow up. Remarkably, he would start throwing again before his head cleared. He truly is one tough hombre.
But, his determination to win at any price came with unwelcome consequences. As the fight wore on, Figueroa's face started to swell. Make that his head started to swell. It wasn't the normal type of damage, which is usually confined to the sharp bone areas above and below the eyes. The effect of Demarco's punches registered on Figueroa from forehead to chin and ear and ear. His whole face and head swelled. There was no specific spot that enswell could be applied. A big ice bag was needed, but was unavailable.
Firgueroa, being the champion that he is, gallantly fought through pain, and succeeded in winning a unanimous decision. The judges had no choice, because of the sheer volume of punches he threw. But, as one boxing analyst said, a good way to determine which fighter won the fight is to ask yourself which man would you rather be? Omar knows that success sometimes comes at a premium.