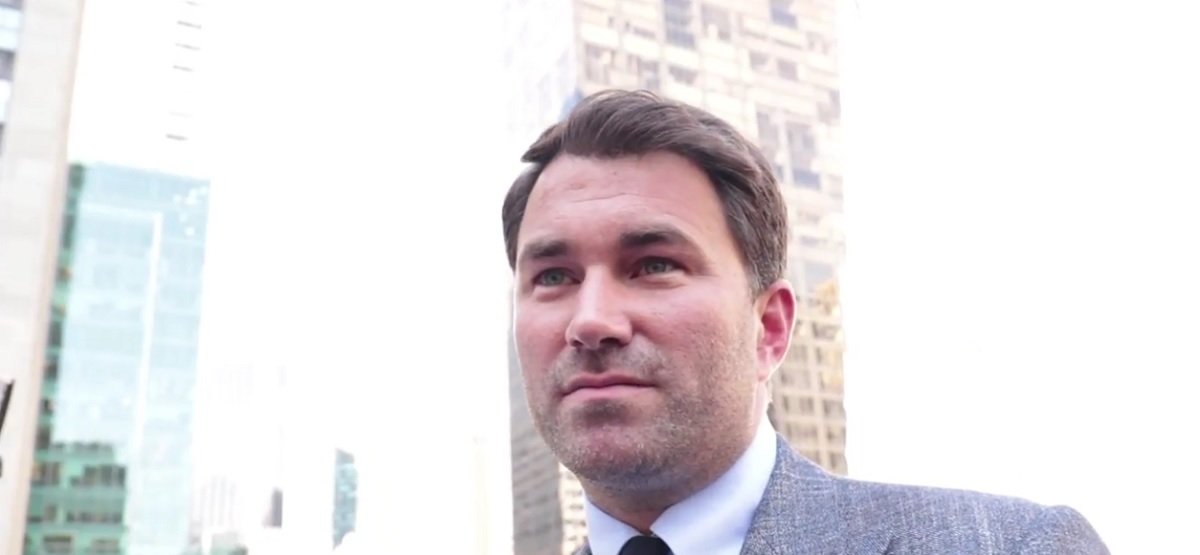 Promoter Eddie Hearn has signed a massive, record-breaking $ billion dollar streaming deal in the US with DAZN. The deal, an eight-year deal, will see Hearn put out 16 fights a year in America – available to fans in the US via on-line outlet DAZN and to UK fans via Hearn's existing TV deal with Sky Sports. Hearn will also continue to promote plenty of shows here in the UK.
For US fans, a monthly fee will be applicable but then none of the fights will go out on pay-per-view. "Fans can watch fights how and when they want to, any time, anywhere," Hearn said with regards to the on-line availability of the big fights he has planned.
The first of Hearn's new shows in the US will take place soon, in September. Hearn, who already has a considerable stable consisting of some top names and world champions past and present, is now reportedly aiming to lure in big-name fighters who as of yet have no official promoter. In Hearn's cross-hairs are WBC heavyweight champ Deontay Wilder, IBF welterweight champ Errol Spence and WBA welterweight ruler (the currently inactive through injury) Keith Thurman, amongst others.
Hearn is clearly thinking big – perhaps bigger than any other boxing promoter in the world today.
"This is a historic moment for Matchroom and the sport," Hearn told BBC Sport. "Since our expansion to the US, we have been looking for a partner that shares our vision and that can give us the volume of dates and rights fees required to build the strongest stable in world boxing and take it to a new level."
Speculation is ongoing regarding who Anthony Joshua may fight next. Hearn has confirmed that Joshua's contract will be renewed and that "he is staying here." If Hearn can manage to sign up Wilder (now wouldn't that be big and unexpected news!) it would seemingly make the making of the big heavyweight unification fight a whole lot easier.
Hearn though, has already made a huge impact on American boxing. With the new deal, Hearn insists the sport of boxing "will only grow further and encourage the best head-to-head clashes worldwide."