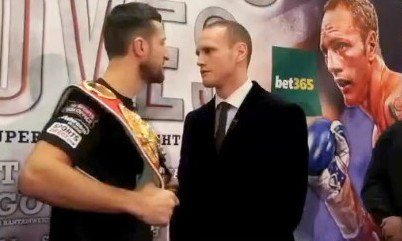 Matchroom's Eddie Hearn spoke with Sky Sports today, on the subject of whether or not we will see a return bout between bitter British rivals Carl Froch and George Groves. Fans everywhere have craved a sequel ever since the November clash between the two super-middleweights thrilled and then ended controversially, with Froch retaining his super-middleweight titles via what was widely viewed as a premature 9th-round TKO.
Hearn says he feels a return will take place:
"I think there's a great chance," Hearn told Sky Sports on the possibility of a Froch-Groves II. "I think it comes down to pride and ego at the end of the day, and of course a lot of money. As a fan and a promoter it's the biggest fight out there. I know we could have this at a huge stadium and have 60, 70, 80,000 people. It was a tremendous fight last time and taking away the controversy, it was one of the best fights I've ever seen. A rematch could be even bigger. If I was a betting man I think we are going to get there. I hope we do."
Hearn explained how he will be meeting with and sitting down with Froch tomorrow, and that "The Cobra" has other lucrative and exciting options: such as a return with the unbeaten Andre Ward (who of course out-pointed Froch in the "Super-Six" final) and meetings with Gennady Golovkin and/or Julio Cesar Chavez Junior.
"We're talking to both fighters and looking at their options," Hearn said. "But at this stage of his career Carl Froch does have a number of options. We're speaking to Dan Goossen about Andre Ward, we are speaking to K1 Promotions about Gennady Golovkin and we are speaking to Bob Arum about Julio Chavez Junior. They're all big fights and I know Carl has ambitions to fight out in America in Las Vegas. But of course the fight everybody wants in the UK is Froch-Groves II. I'll be sitting down with Carl tomorrow and hopefully we can have some good news for the British public in the coming weeks."
So, will Groves give in to both Groves' demands and the demands of a large section of the British fans and grant Groves another shot at his belts, or will Froch look to gain some revenge himself against Ward? Or will the Nottingham hero opt to slug it out with Golovkin or Chavez Jr? Hearn is correct when he says Froch has plenty of options.