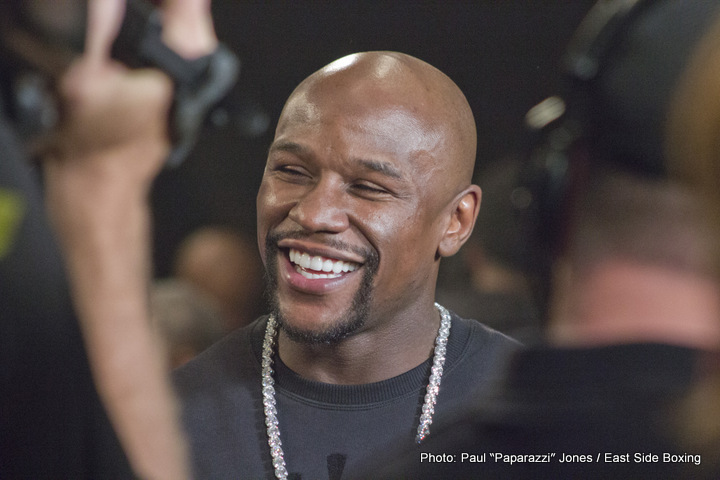 There were plenty of boxing greats in Las Vegas last night to attend the big Sergey Kovalev-Andre Ward fight, with big names from past and present on hand to watch the light-heavyweight title showdown. One of these great fighters was living legend Julio Cesar Chavez, the greatest Mexican fighter in history according to most experts and fans alike.
And while he was in town, the former multi-weight king was asked – and not for the first time – how he felt he would have done, in his prime, in a fight with 49-0 master Floyd Mayweather Junior. Chavez, who twice defeated Floyd's uncle and trainer Roger, smiled as he told Fight Hype how, at 140-pounds, he would have "F****d him up."
Would he have though?
Chavez was a great 130-pounder, a great 135-pounder and a very exceptional 140-pounder. Chavez, though, was not quite the same force at 140 as he was at the two lower weights he boxed at. The prime Chavez was probably the 1987 to 1988 version, when he was destroying good lightweights like Edwin Rosario and Rodolfo Aguilar. This is not to suggest the 140-pound, 1989 through 1993 version of Chavez was not a superb fighting machine, as he very definitely was. But you could argue that the Mexican hero to millions would have had a better chance at handing Mayweather a beating at either 130 or 135.
In any case, and whoever you think would have won, it would have been a great fight. A clash of styles, Chavez the ultimate pressure fighter against Mayweather the sublime boxing master, could have gone either way. But one thing is clear: against an unbeaten Chavez, over a scheduled 12 rounds, Mayweather would have found things hotter and heavier than at any other time in his career.
Fans who say Chavez would have won point to the first, debatable decision Floyd had to be satisfied with against Jose Luis Castillo (until the rematch, anyway). Fans who say Mayweather would have won point to the boxing lesson Chavez was given by Pernel Whitaker (albeit up at welterweight, but would Whitaker have been able to do the same thing down at 140?)
Would Mayweather have been strong enough, mentally as well as physically, to have dealt with Chavez' pressure, pressure, pressure, pressure? Who knows, but we can dream.