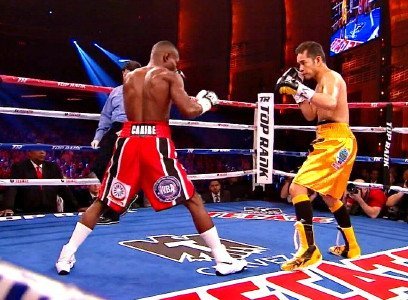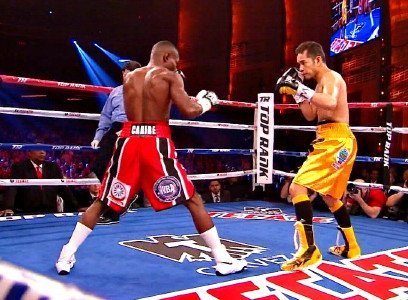 WBA super bantamweight champion Guillermo Rigondeaux (12-0, 8 KO's) proved to be too fast, too skilled and too talented for WBO super bantamweight champion Nonito Donaire (31-2, 20 KO's) tonight in beating him by a 12 round unanimous decision at the Radio City Music Hall, in New York, New York, USA.
The judges scored the fight 114-113, 115-112, 116-111. The fight wasn't nearly as close as the two judges that nearly had Donaire winning. Those scores were pretty sad and scary because you have to wonder what fight where those judges watching. I only had Donaire winning 10th round and that was because he nailed Rigondeaux with a left hand when the two were in close in a clinch.
Donaire wrestled out of it and hit Rigondeaux when he wasn't expecting a shot while he was standing straight up. Let's be honest: that was the way Donaire could knock Rigondeaux down because he was too slow and missing all night long with his shots. Rigondeaux got up from the knockdown and immediately resumed schooling Donaire and making him look really, really bad.
In the 12th round, Rigondeaux hurt Donaire's right eye and he was teeing off on him the entire round. Had Rigondeaux poured it on a little more he might have been able to score a knockout in that round because Donaire looked ready to go.
After the fight, Rigondeaux said "I made him look the way he looked, which was bad. I was boxing, moving, and he was frustrated. He's an excellent fighter with a good punch, but with one punch you can't win a fight."
Donaire said "I didn't feel his power until the last round. I have a lot of respect for him for the beautiful boxing he gave me…I tore ligaments in my shoulder in the last three fights and I need to have surgery. I'm not making excuses. I didn't do my job and throw my jab and go to my left. I thought it was very, very close, but we got to be better from this point forward. I want to go up in the division. It's very hard for me to make weight. I want the rematch. I didn't study the fight and I should have."
I hate to be the one to break this to Donaire and to the two judges that scored the fight close; the fight wasn't close. I guess if you can call it close if winning 11 rounds to 1 is considered close. HBO gave Donaire only the 10th, and I completely agree with that. Even in that round, Donaire wouldn't have scored that knockdown if he hadn't roughed Rigondeaux up when the two were in close and hit him while he standing straight up and not ready. Rigondeaux totally dominated and out-landed Donaire in every round, even the one where he was knocked down. It would have been really bad if those two judges had given Donaire the fight, but it's bad enough that they nearly had him even. That's just awful scoring if you ask me.
Other boxing results on the card:
Felix Verdejo TKO 1 Steve Gutierrez
Mikael Zewski KO 2 Daniel Sostre
Tyler Canning SD 4 Dario Soccia
Erick De Leon US 4 Diamond Baier
Glen Tapia UD 8 Joseph de los Santos
Jesse Hart TKO 3 Marlon Farr
Sean Monaghan TKO 1 Dion Stanley
Toka Kahn Clary TKO 1 Gadiel Andaluz