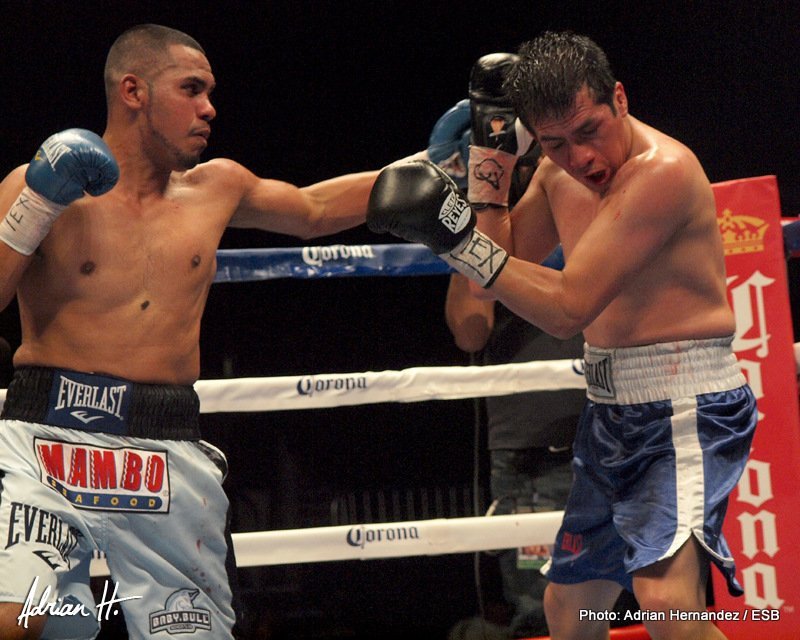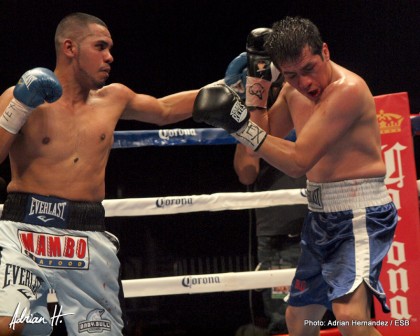 By Marc Livitz at ringside in Corpus Christi, Texas, photo gallery by Adrian Hernandez – Juan Diaz scored a sixth round TKO victory over Hernando "Pipino" Cuevas, Jr. tonight at the American Bank Center in Corpus Christi, Texas. Diaz (36(18)-4) had taken a respite of sorts from the ring. The Houston, TX boxer last fought in July of 2010 in a rematch with Juan Manuel Marquez. He lost a sound unanimous decision and the result was a far cry from his initial meeting with Marquez in February of 2009.
Although Diaz was knocked out in the ninth round, their battle in front of Diaz's home crowd in Houston garnered "Fight of the Year" Honors. In between his two meetings with "Dinamita" Marquez, "Baby Bull" Diaz went one up and one down with Paulie "Magic Man" Malignaggi, who many felt was robbed of a victory in their first meeting in Houston. Tonight, Diaz faced off with the son of former WBA welterweight champion Pipino Cuevas, Sr.
Diaz fired off from the opening bell. He stalked Cuevas, Jr. (15(13)-10) around the ring and maintained a steady left jab. He caught the Mexican fighter with a left hook at the midway point of the round. There was not much ring rust to be seen in the initial three minutes, yet it was only one of a scheduled ten. "Baby Bull" maintained the same aggressive pace in the second and Pipino Jr.'s face had turned a noticeable shade of red. Diaz kept up the jab and seemed to be looking for the hard right to follow.
In the third, Cuevas began to taunt Diaz at times when he was tagged by one of Juan's left hooks. Diaz was not famous for his knockout power, yet at this point of the fight he was clearly in control. Round four was much of the same. Pipino was backpedaling and unable to throw much from his back foot. He definitely got Diaz's attention with a blatant yet light low blow towards the end of the period. Juan finished with a flurry. He pushed to move the fight towards his preferred phone booth style of fighting. In the fifth, Cuevas appeared just a swivel and a few chains short of being a substitute heavy bag for Diaz to consistently target.
The halfway point of the contest had passed and "Baby Bull" Diaz continued the onslaught. Cuevas, Jr. was simply fighting back. He wasn't fighting. After the continuous lefts and rights, referee Mark Coloy decided that he had seen enough and stepped between the fighters at the fifty five second point of round six. To the protest of Cuevas, Jr. and his corner, Juan Diaz made a successful return to the ring with a sixth round TKO win and his first knockout win since 2007.
Undercard Results
Justin DeLoach UD4 Martin Gonzalez
Jerry Belmontes MD8 Daniel Diaz – Junior Lightweights
Jose Rodriguez KO3 Greg Gutierrez – Junior Welterweights
Cesar Vila KO1 Roniel Thomas – Junior Middleweights
Ernest Reyna KO1 Tony Wilcox – Heavyweights
Kendall Castaneda UD4 Olvin Mejia – Lightweights