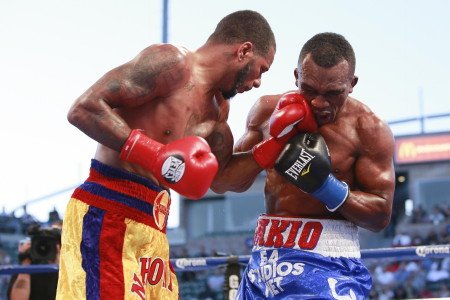 (Photo credit: Esther Lin/Showtime) The first time these two fought in Brooklyn last December, a rough and rugged contest ended in a controversial draw. Bika, of Australia by way of Cameroon, held onto his title but the sanctioning organization mandated a rematch take place. It's clear to anyone who's paid attention during the build up to this rematch that Bika and Dirrell don't like each other, as they jawed back and forth at the presser and weigh-in earlier this week. But how would all that animosity translate into the ring? It didn't take long to find out.
The first round of this boxing match looked more like a wrestling match, as the fighters took turns slamming each other into canvas. Referee Jack Reiss tried to establish control of the fight early and told the fighters to knock out the rough stuff or he'd take a point. Dirrell, the quicker, slicker boxer, attempted to confuse his opponent by switching between the southpaw and orthodox stance.
Dirrell also tried to frustrate Bika with a lot of holding and was warned in the fourth round by Reiss for pulling down on the Aussie's head. The crowd grew restless as the rounds progressed and a sloppy start developed into an ugly fight. Yet through all the awkward and rough stuff, and boos from the crowd, Dirrell seemed to remain poised and in control. By the middle rounds Bika started to show signs of fatigue and was rocked by a few punches. Things got a little wild in the eighth round as Bika was docked a point for a borderline low blow. Later in the round, Dirrell dove in while throwing a wild punch, basically jumping on Bika's shoulder, and was consequently slammed to the canvas WWE style.
Into the later rounds, Dirrell continued to frustrate Bika and occasionally land hard shots, which visibly stunned his opponent and began to win over the crowd. The Flint Michigan native was coasting and at times it appeared that had he been willing to step on the gas a little, he may have got his opponent out of there. Bika never stopped trying, but he appeared off balance and missed some punches so badly that he nearly did a pirouette in the ring. In the twelfth round Bika knew he needed a knockout to win, but Dirrell was content to tie him up any time he got close. The final bell rang with both fighters in a clinch and the crowd booing. It had been one of those frustrating fights where there were times it appeared things were going to take off, but it just never happened.
The judges scored it 114-113, 116-111 and 117-110 for Dirrell; who did enough to win and take home a world title, but didn't exactly set the world on fire. Bika landed 124 of 421 total punches (29%) while Dirrell landed 156 of 452 (35%). Dirrell landed more jabs than Bika (52 to 38), as well as power shots (104 to 86); his record improves to 27-0-1 (22KO) while Bika drops to 32-6-3 (21KO) and may be at the end of the road.
Questions, comments, hate mail? You know what to do.
Twitter.com/MonteroOnBoxing
Facebook.com/MonteroOnBoxing