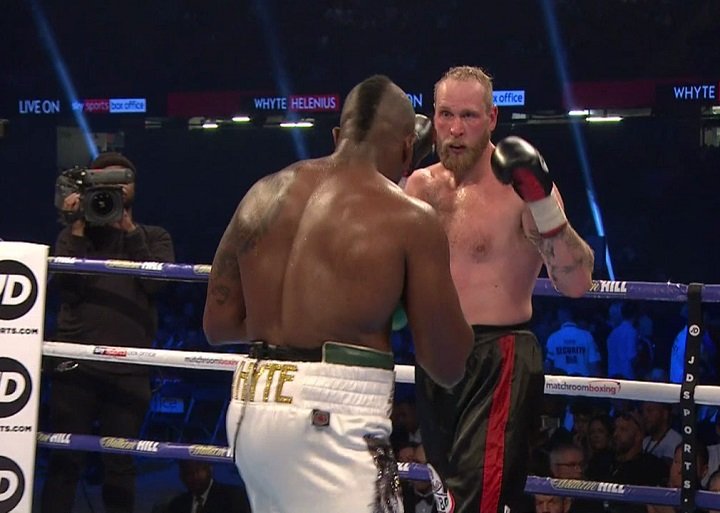 #1 WBC heavyweight contender Dillian Whyte WON'T be fighting on February 3 as previously believed now that the cruiserweight match-up between Lawrence Okolie (7-0, 6 KOs) and Isaac Chamberlain (9-0, 4 KOs) has been announced for that date.
Okolie vs. Chamberlain will be the headliner for February 3 at the O2 Arena in London, UK. Whyte was supposed to be headlining that card, but his promoter Eddie Hearn has been unable to sign a suitable opponent. Whyte (22-1, 16 KOs) will now be fighting in March, possibly on the 24th at the O2 Arena.
The opponent for the 29-year-old Whyte could be former WBA heavyweight champion Lucas 'Big Daddy' Browne if WBO heavyweight champion Joseph Parker agrees to a deal with Anthony Joshua for early 2018. Browne is currently waiting to find out if Parker will fight Joshua or not. If he doesn't, Browne will fight Parker next.
Fighting in March will help Whyte potentially get a fight against Hughie Fury. There's interest on Hughie's part to fight Whyte. The February 3 date didn't work for the 23-year-old Hughie, because it didn't allow him enough time to train for a full 8 weeks to take the fight in tip top shape. Now that Whyte is potentially fighting on March 24, there's no excuse for Hughie not to take the fight with him unless he has some other reason for not being able to fight him. Whyte vs. Hughie would be a good fight. It's anyone's guess who wins that one.
If Hughie can't take the fight, then don't be surprised if Mariusz Wach is signed to fight Whyte. Wach recently fought Jarrell 'Big Baby' Miller last November and was stopped on the 9th round. Whyte vs. Wach would not be a great fight, but it would at least get Whyte some work to get used to fighting a guy with height and size to get him ready for the 6'7" Deontay Wilder in the future. Whyte is rated #1 by the World Boxing Council. It's only a matter of time before the WBC orders Wilder and Whyte to face each other.
Whyte is coming off of an uninspiring 12 round unanimous decision win over Robert Helenius on October 28. This was supposed to be a showcase fight for Whyte to display his talent and show the boxing world that he's ready to take on and beat Wilder. Instead it was 12 rounds of Whyte throwing wild, slapping shots, and doing a lot of missing. Helenius staggered Whyte in round 2 with one of the few solid punches he hit him with in the fight.