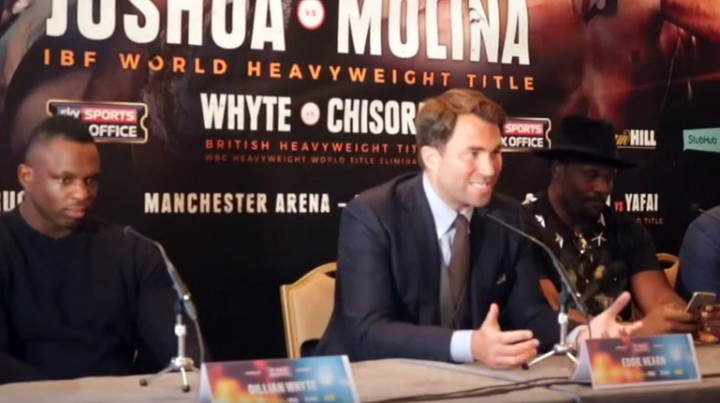 Dillian Whyte has defended the credentials of his upcoming opponent Malcolm Tann, who "The Body Snatcher" will fight, in his US debut, on the big Terence Crawford-Julius Indongo card on August 19. Though Tann has had just two fights in the last nine years, one win and one loss, Whyte says his 6'6" foe will provide him with added experience as far as fighting big guys goes.
Whyte, in speaking with Sky Sports, also made clear his intentions of keeping himself active from now on; with two more fights planned for after the Tann bout.
"I think he's a good opponent, " Whyte, 20-1(15) said of Tann, 24-5(13). "He was a top prospect at one stage. He's just beaten a guy last year that's 9-0 (Nick Asberry who 38 year old Tann stopped last October). He's a tall guy and is quite knowledgable, knows his way around the ring. This is good experience for me, fighting some tall guys because all the champions are quite tall."
Of course, as their heated back and forth exchanges on social media make clear, the tall world champ Whyte really wants is WBC king Deontay Wilder – Whyte's promoter Eddie Hearn even offering Wilder a substantial cash offer to make the fight. So far though, Wilder has not shown too much interest in the fight – although "The Bronze Bomber" did take the time to shoot a quick, not to mention funny, tweet at Whyte yesterday:
"Be very careful of what you ask for Dill Pickles….for you just might get it," Wilder wrote.
Whyte says Wilder is "the worst champion in history."
"Wilder just talks rubbish," Whyte continued. "He seems to think the money will be on the table forever. We'll move on and fight someone else, because he's a joker. He just wants to fight nobodies and make chump change. We'll see what happens. I'm not really counting on that fight at the minute, I'm just trying to get active and fight three times this year."
After Whyte has dealt with Tann he wants to fight bigger names, two this year. Whyte listed the fighters he has on his immediate radar: "There are guys like Manuel Charr, Dereck Chisora, Chazz Witherspoon, Jarrell Miller, Deontay Wilder, even Gerald Washington.
Three of those name make for some good excitement when listed as possible dance partners for Whyte (I'll let you decide which three!) but most of all, it's good to see Whyte planning to fight often (last going to war in December, against Chisora). A good fighter and puncher, we could stand to see as much of Whyte as possible.