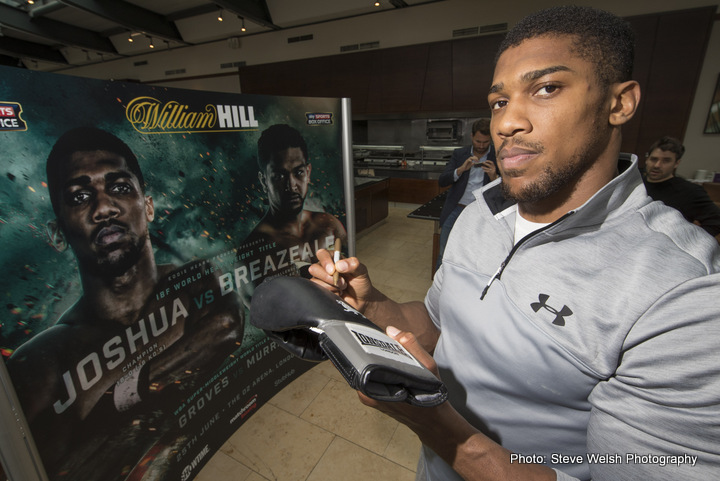 It's a stacked card in Leeds, UK on Saturday, and the fight of the night might just be the heavyweight clash between two men who appear to have a genuine dislike for another, or at least a healthy difference in opinion. Dillian Whyte will face unbeaten but far less known David Allen in a fight that although not a big fight, could propel the winner into something big. Whyte, beaten only by reigning IBF heavyweight champ Anthony Joshua in a great action fight, is a big favorite to win at the sold-out show, but Allen has been calling for this fight for some time.
Now that he has what he today called his big opportunity, Allen is confident he will win the fight and prove that he belongs "at the top." Allen, 9-0-1(6) may not have faced any big names in a pro fight, but as he said today at the final press conference before the fight, he has sparred plenty of elite heavyweights – and he says he more than held his own.
"I've boxed Joshua's head off on several occasions," Allen said to the gathered media. "I've sparred all the best heavyweights in the world – [Tyson] Fury, [Wladimir] Klitschko and Joshua and I belong at the top with those guys. Joshua himself even told me that I will be world champion one day. This is the chance I've been waiting for and it's my springboard to bigger things. A man like me needs this platform to showcase my skills. We've both got the talk and this is a fight that everyone wants to see."
Indeed, if this fight is as good as the pre-fight banter, if it's as entertaining as the salty exchanges between the two trash-talkers, we will get a fun fight. Whyte loves the sight of a microphone and he has thrown some colourful barbs Allen's way. Earlier this week, Whyte, 17-1(14) said he doesn't just want to win, but he wants to "hurt Allen bad." Whyte does not feel Allen has shown anything to prove he belongs in his class.
"This guy is deluded, there is not much else we can say," a smiling Whyte said today. "He says he is strong, tough and will outwork me, but he forgets that I carry bricks in both fists. I didn't want or need this fight, I took it for the fans as they want to see David Allen get beaten up. Allen is a bum who fights on the internet. I can't wait to beat him to a pulp and put him on the floor."
Again, great trash-talking. Whyte has proven power, while Allen, as he acknowledges himself, needs to prove his ability at top level. Whyte has to be the pick to win, but something tells a number of people – both fans and experts – that this one will be a tough fight for both men. And perhaps the best fight on a night filled with them at The First Direct Arena in Leeds.
The heavyweight bout will contest the WBC international title. Interestingly, former WBC 140-pound champ Junior Witter will be in Allen's corner on Saturday.