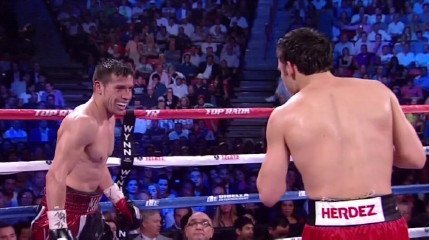 By Michael Collins: Lou Dibella, the promoter for WBC middleweight champion Sergio Martinez, feels that the sport of boxing needs a rematch between Martinez and former WBC middleweight champion Julio Cesar Chavez Jr. after last night's one-sided 12 round decision win by the 37-year-old Martinez over Chavez Jr. at the Thomas & Mack Center in Las, Nevada.
Dibella said to the LA Times "Boxing deserves a rematch. My philosophy is when you have lightning in a bottle, don't let it go. A rematch probably sells out Cowboy Stadium."
So let me get this straight. Chavez Jr. loses 11 rounds plus the fight, and then gets a rematch out of this? There's something wrong with this picture because that doesn't make sense at all. I don't care that Chavez Jr. knocked Martinez down in the 12th. The fact of the matter is he couldn't finish him off and it was Martinez who was pummeling Chavez Jr. at the time the 12th round ended.
A rematch probably would sell a lot of tickets at the Cowboys Stadium, because Chavez Jr's fans in the Texas area would pack the place. But that doesn't mean the fight should happen. In my view, that's taking advantage of Chavez Jr's loyal fans by putting this mismatch together again and selling a second time. It's like selling bad food. Fans already tasted that food once and it was mostly horrible and now they're going to try to sell it again? I feel sorry for the fans that will pay to see that because Chavez Jr. won't likely do any better unless perhaps the ring size is extra small, and Chavez Jr. comes into the fight at 190 lbs. In a small ring in Texas at 190, yeah I guess Chavez Jr. would do a little better. But I could still see him getting totally out-boxed and clowned by Martinez. Of the two, I'd say Martinez will come into the rematch the more improved fighter because he'll know what not to do a second time. He's not going to try and punch with Chavez Jr. like he did in the 12th, because he got knocked down for making that mistake.
How do you sell a fight a second time when it was a total mismatch the first time around? I mean, who on earth will want to pay $49.99 to see Martinez whip Chavez Jr. a second time? How do you sell it? Chavez Jr's promoter Bob Arum would have to come up with some strange marketing technique to sell that fight because anyone with a memory will know already that their previous fight was a mismatch and won't want to buy a second time for big money.
Like I said, Chavez Jr's devoted fans will pay to see this fight again, but I don't think it's fair to them and I don't think it's fair to the boxing public to see this rematch go ahead this soon. Let Chavez Jr. redeem himself against a few contenders and prove he belongs in the ring with Martinez before throwing him out there a second time to get schooled again. And while they're at it, get him to show up regularly for his training sessions at the gym so he can learn how to handle a fighter with movement.