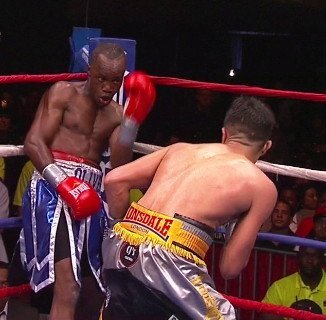 Former IBF featherweight champion Billy Dib (36-2, 21 KO's) got back on the winning track on Friday night in defeating a ring rusty 33-year-old Mike Oliver (25-4, 8 KO's) by a 10 round majority decision at the Connecticut Convention Center, in Hartford, Connecticut. The final judges scores were 96-92, 96-92 and 94-94. Dib was docked a point each in rounds 2 and 3 for throwing low blows.
Oliver went on the canvas after the 1st point deduction and it's unclear whether he was hurt by a body shot, the low blow or if he was merely acting so that he would get the point taken away from Dib. Whatever the case, Dib was docked a point for the shot. Referee Mike Ortega seemed to react a little quick in taking off a point in the first low blow.
Normally referees tend to let fighters get away with a number of low blows before they start taking off points, but in this case Ortega was quick to take away points. It didn't change the outcome of the fight all that much because Dib was still dominating the action. But it definitely caused him to focus more on throwing head shots, and he did a good job of beating Oliver up with a constant rain shots to the head that he threw from the 3rd round on.
Oliver was fighting for the first time in a year and half since being stopped in the 2nd round by Juan Manuel Lopez in October 2011. He fought a lot better tonight than he did in that fight, but he still made a lot of mistakes that ultimately cost him the fight, such as fighting off the ropes. Oliver needed to stay in the center of the ring to have any real chance of winning the fight, but in every round he either willingly backed up to the ropes or he was bulled to the ropes by the bigger Dib. Once he was on the ropes, Oliver took lots of shots and only rarely landed anything clean that got Dib's attention.
***
In other action on the card:
In the co-feature, unbeaten lightweight Mark David (17-0, 5 KO's) defeated Robert Osiobe (14-6-4, 6 KO's) by an 8 round unanimous decision. The final judges' scores were 78-74, 78-74 and 77-75.
Undefeated welterweight prospect Emmanuel DeJesus (5-0, 4 KO's) defeated Rikardo Smith (6-4, 1 KO's) by a round unanimous decision by the scores of 39-36, 39-36 and 40-35.