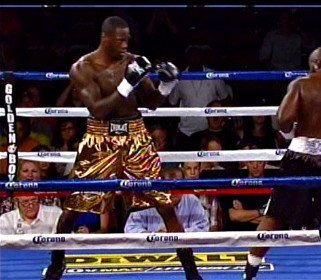 By Marcus Richardson: Unbeaten heavyweight Deontay Wilder (25-0, 25 KO's) will have the perfect vehicle to be seen by millions in his next fight against Kelvin Price (13-0, 6 KO's) on December 15th with it being televised by SHowtime at the Sports Arena, in Los Angeles, California, USA.
IBF/IBF/WBA/WBO heavyweight champion Wladimir Klitschko, his currently trainer Johnathon Banks and his late trainer Emanuel Steward all see great things of the 27-year-old Wilder and believe he can be a future heavyweight champion. Steward himself told RingTV that he sees Wilder fighting for a world title in the next 12 months.
The 6'7″ Wilder has got the power and the hand speed to be something special. He's not just a tall slow guy like a lot of taller fighters are. He's got excellent hand speed and he can punch with major power with either hand. His right hand is possibly the best in all of boxing, and his left hook isn't far behind. In his recent sparring with Wladimir to get him ready for his fight with Mariusz Wach, Wilder very emerged as his #1 sparring partner and Wladimir was really impressed with him.
Price, 6'7″, has identical size as Wilder but without the big power. He does have good defensive skills and a good chin. This could make it tough for Wilder to get a stoppage if Price can keep from getting hit by Wilder's big right hands. If Wilder is able to land them it won't matter how good Price's chin is. He'll not be able to handle those kinds of big shots without going down for the count.
This could be the last easy fight for Wilder, as he wants to step it up in 2013 against better opposition than Price. At 27, Wilder needs to make a move soon because he doesn't want to end up like a lot of heavyweights that spend long periods of their careers facing weak opposition.