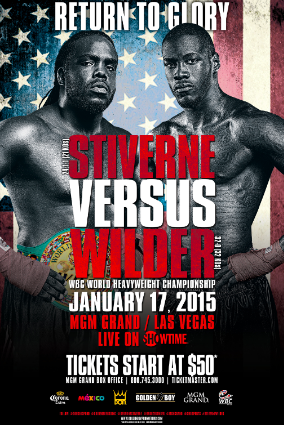 Former heavyweight champion George Foreman believes that American Deontay Wilder (32-0, 32 KOs) has what it takes to unseat WBC heavyweight champion Bermane Stiverne (24-1-1, 21 KOs) this Saturday night in their fight at the MGM Grand in Las Vegas, Nevada. Foreman thinks that the 6'7" Deontay has to fight the way that brought him this far by him being aggressive and not letting up on the shorter 36-year-old Stiverne.
Foreman thinks that Deontay needs to be smart but aggressive at all times. He can't play it safe against Stiverne and expect to win.
"If he stays aggressive, Deontay Wilder wins but he's got to fight downhill and stay aggressive against Bermane Stiverne. As long as Wilder remains aggressive, then I think I could have [Stiverne] out of there in three or four rounds," Foreman said via RingTV.com.
I'm sure that not too many boxing fans would agree with what Foreman is saying here about Wilder being able to get the steel-chinned Stiverne out in 3 or 4 rounds like he says. Stiverne took Chris Arreola's best shots in two of their fights and was able to give him a real pounding both times. With that said, Wilder is a much better puncher than Arreola with more size and faster hands. Having a guy like Wilder pounding you with right hands over and over again could be too much for Stiverne if he's not able to catch him with one of his sneaky left hooks like he kept catching Arreola with in their two fights.
"Wilder cannot allow Stiverne to start picking him apart and turn it into a boxing match because he could lose that way," Foreman said. "Wilder can use his jab to set up Stiverne but once you get that real estate, don't give it up and let it go back and forth."
Stiverne doesn't really have the reach to pick Deontay Wilder apart with shots. Stiverne has a good jab, but the only that lands is if Wilder stands close enough for him to connect with those shots.
Most likely, Stiverne will be waiting on Wilder to try and catch him with a left hook after he throws one of his power shots. If Wilder gets close enough, Stiverne will look to catch him with a left and then a right. Wilder tends to start brawling when he's hit, and that could either good or bad for Stiverne. Wilder has the faster hands and he's got all that leverage he can use on his shots. If he catches Stiverne just right, it's going to be good night for the Canadian based fighter.